Jawbone UP app reaches Android platform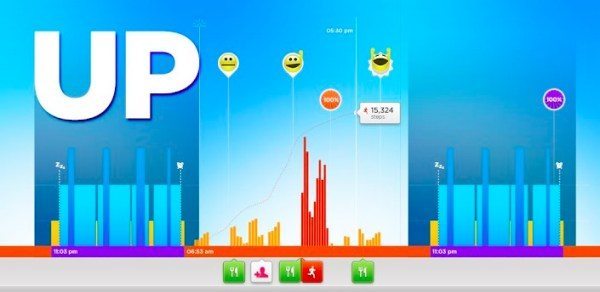 We always enjoy bring readers news of some of the most popular apps out there and one of those is the Jawbone UP app. This is a health and fitness app that is used alongside a special wristband, but until now the app has only been available for iOS. Today we can tell you the good news that the UP by Jawbone app has now reached the Android platform.
The UP app for Androids is now at Google Play and is a free app suitable for devices running Android 4.0 or later. The Android version of the app has been in demand for some time and so there should be plenty of people today, happy to see it has arrived at last. The fitness tracker system is already on its second-generation and yet that too remained for iOS-only initially and although the Android UP Jawbone app has now arrived, the iOS version still has a few features that are missing from the Android variant, such as the ability to share on social networks.
The wristband used is the same for both the iOS and Android app and will soon be more widely available. It has just been released for Europe and will go on sale in Asia, Australia and the Middle East next month. The wristband in use with the app tracks sleep, movement and what you eat throughout night and day to help users determine a fitter lifestyle. Features include tracking your sleep (even telling you how many times you woke up), tracking your activity (steps, distance and calories burned) and also the ability to log what you eat and drink and find out information about nutritional values.
Users can also get goal insights, set Smart Sleep Alarms and also set Idle Alerts (to remind you to get up and do something!). As well as this you can team up with other friends using the app plus wristband system to give each other encouragement. We think this app and wristband system looks great and will be checking it out for ourselves.
If you want to download the Android app head to Google Play here. For more information on UP by Jawbone or to find out which devices are compatible head to Jawbone here where you will also see the wristbands for sale at £99.99 in a variety of colors and sizes. Are you pleased to see UP finally arrive for the Android platform?