Nexus 4 back in stock at Google Play UK, too late for some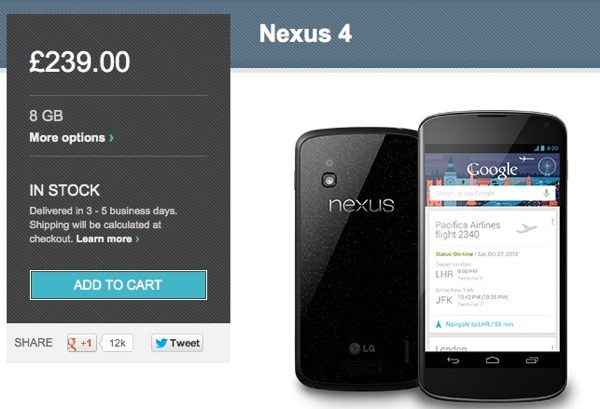 The Google Nexus 4 smartphone by LG has been a huge success, in fact it has been so popular that the difficulties faced by customers trying to get one through Google Play have been well documented. Every time stocks were replenished they disappeared again pronto leaving plenty of potential customers still without the phone. However there's good news for UK buyers today as the Nexus 4 has finally come back into stock at Google Play.
The Nexus 4 seems to have been unavailable through Google Play as much as it's been available. It has been more than a month since the Nexus 4 was available straight away from the UK Google Play Store even though the shortage of supplies seems to have settled down a little earlier for the US. The Nexus 4 has been available sometimes from other sources but prices have often been vastly inflated from those available for the unlocked version through Google Play.
If you now try to order either the 8GB or 16GB version of the Nexus 4 through Google Play UK you'll see that both are now listed as 'in stock,' with delivery times of three to five days. The prices remain the same, £239 for the 8GB Nexus 4 or £279 for the 16GB variant. These are real bargain prices for such a device and so you may need to be quick to order one if you're still waiting, as we have no way of knowing just how many Google Play UK has for sale again.
The only snag with this is that some one-time potential customers may well have decided that the Nexus 4 ship has sailed considering how difficult it has been for them to get the phone through Google Play. The longer they have waited, the more new phones have been announced to tempt them, such as the HTC One and Samsung Galaxy S4, although these won't be available at such competitive prices as the Nexus 4. We can only wonder at how many more sales Google and LG would have achieved for the Nexus 4 if it had been available in plentiful numbers since release.
If you still want to purchase the Nexus 4 head to Google Play here for the 8GB version or for the 16GB model head here. Have you been waiting in the UK for the phone to come back into stock at Google Play? Maybe you waited so long that your attention has now turned to a different handset? Let us know with your comments.
Source: Google+ Nexus