HTC One priced in India, bit of a wait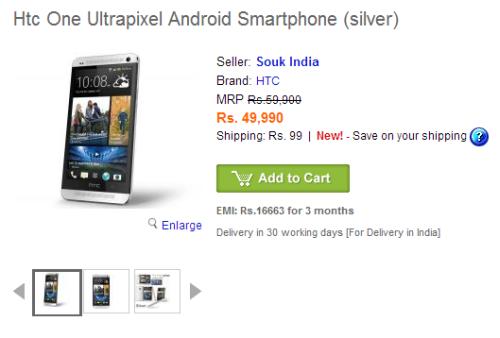 The HTC One is a stylish looking smartphone that has a premium look and feel to it, but it seems the device is having a number of issues reaching end users, and now the HTC One is priced in India but customers ordering the device will have a bit of a wait for the device.
We heard yesterday that HTC were having problems getting suppliers to provide components in enough quantities, as the companies now favoured other manufacturers after HTC kept reducing orders last year because of falling sales.
Now an online retailer rediff.com has put the HTC One up for sale with a price of Rs. 49,990, but customers placing an order for the smartphone will have to wait thirty business days for delivery. The company is only offering the handset with the 32GB memory option and the silver finish at the time of writing.
It is debatable whether the handset arrives to customers that quick considering the delays being experienced elsewhere, and previously the handset was expected to launch in the country during April. To recap the HTC One features a 4.7-inch Full HD display powered by the Qualcomm Snapdragon 600 processor clocked at 1.7GHz, and paired with an Adreno 320 GPU for the graphics.
There is also 2GB of RAM and on the back is the HTC UltraPixel camera module that has been the cause of all the delays for the manufacturer, but once the company does start getting stock out to retailers and carriers they should have a big hit on their hands.
Will you purchase the HTC One at this price?