Samsung Galaxy Note 2 vs HTC One, defining your choice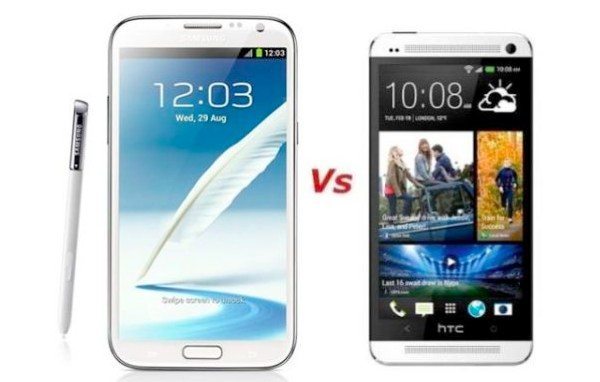 Every now and then we like to bring readers a comparison between two of the biggest smartphones of the moment. The Samsung Galaxy Note 2 (Note II) released last year while the HTC One is about to hit shelves at any time, although it has been confirmed there will be some slight launch delays. Both of these handsets have plenty to admire and we thought we'd compare the Samsung Galaxy Note 2 vs. HTC One in a bid to help you decide which might be the best choice for you.
We'll give you a rundown first of some of the key specs of these two devices but of course we cannot mention every spec and feature. Both are Android smartphones but personal preference of design may well play a large part in trying to make your decision, as they do look quite different. Also of course the Galaxy Note 2 with its large display is more of a 'phablet' device and so another factor for your final choice may simply come down to the size of the two devices. Let's take a look then at those major specs and details.
Processor
The Galaxy Note 2 has a 1.6GHz Exynos quad-core processor with Mali-400MP graphics. The HTC One on the other hand has a 1.7GHz Qualcomm Snapdragon 600 quad-core processor and Adreno 320 graphics. Both of these set-ups should do a fine job of powering these devices.
Display
You'll find a whopping 5.5-inch Super AMOLED display with resolution of 1280 x 720 and 267 ppi on the Galaxy Note 2. The HTC One has a 4.7-inch Super LCD3 full HD display with resolution of 1920 x 1080 and 469 ppi. Therefore we'd say the HTC One might be the right choice for you if the display quality is one of the main features you look for in a smartphone.
RAM and Storage
Samsung's Galaxy Note 2 has 2GB of RAM and 16, 32 or 64GB options of internal storage, expandable via microSD. The HTC One also has 2GB of RAM and comes in 32 or 64GB options but this is not expandable as in the case of the Galaxy Note 2.
Camera Set-up
There's an 8-megapixel rear camera with autofocus, LED flash, simultaneous HD image and video recording, geo-tagging, touch focus, face and smile detection and image stabilization for the Galaxy Note 2 along with 1080p video capture @ 30fps. The Note 2 also has a 1.9-megapixel front-facing camera. As for the HTC One this has a 4-megapixel UltraPixel rear camera with autofocus, LED flash, simultaneous HD video and image recording, geo-tagging, smile and face detection. Video capture is 1080p @ 30fps and there's HDR, stereo sound recording and video stabilization. The HTC also sports a 2.1-megapixel front-facing camera with 1080p video @ 30fps and HDR. Don't necessarily think that the 4-megapixel UltraPixel camera of the HTC One is inferior to the 8-megapixel camera of the Galaxy Note 2 though as HTC claims that each of its pixels can harness 300% more light than the cameras on other smartphones, good for low-light photography.
Battery
There's a nicely sizeable 3100 mAh battery for the Galaxy Note 2 and 2300 mAh battery for the HTC One but of course the Note 2 has a larger screen needing more power.
Operating System
The Galaxy Note 2 was released running on Android Jelly Bean 4.1.1, upgradable at the moment to 4.1.2 with Samsung's TouchWiz UI. Meanwhile the HTC One will launch on 4.1.2 Jelly Bean upgradable to 4.2.2 with HTC's Sense UI version 5.
Dimensions and Colors
The Galaxy Note 2 is the largest of the devices, as you'd expect with that mammoth display. It measures 151.1mm x 80.5mm x 9.4mm and weighs 183g. It comes in gray, white, brown, ruby, pink and blue color options, varying by market and carrier. The HTC One measures 137.4mm x 68.2mm x 9.3mm and weighs in at 143g. It comes in black, silver or red color options.
Price
This is difficult to quantify as in some regions it will be cheaper than others and contract prices will also be dependent on carrier. As a rough guide non-contract SIM-free prices in the UK are around £510 for the HTC One and £550 for the Galaxy Note.
Both the Galaxy Note 2 and HTC One come with LTE connectivity (where applicable), Bluetooth 4.0 and NFC support. However where the Samsung Galaxy Note 2 has Wi-Fi 802.11 a/b/g/n the HTC One has the more up-to-date Wi-Fi 802.11 a/ac/b/g/n. We should also point out that the Galaxy Note 2 has a stylus that the HTC One doesn't have. Some of the software features for the Galaxy Note 2 include S-Voice, Smart Stay and Smart Rotate eye tracking. The HTC One on the other hand has Beats Audio and features such as BlinkFeed, HTC Watch and Zoe.
We said at the beginning of this article that the two phones looked quite different and that ultimately your choice may come down to preference of design and build quality. The HTC One is a beautiful looking phone with metal build and curves and has a real premium look and feel. The Galaxy Note 2 though, like some other Samsung devices, has sometimes been criticized for its cheap plastic look and feel.
We're not going to make a choice for you between these two handsets as we think the Samsung Galaxy Note 2 and HTC One are two of the very best phones to come to the market so far. It has to be the right option for you though so it may come down to looks, the size of your pockets, whether you feel you need expandable storage or of course the different features these phones carry. If you want more information on either then check out our previous Galaxy Note 2 posts or HTC One posts at the links.
Tell us what you think about the Samsung Galaxy Note 2 vs. HTC One. If you were to choose one of these phones right now, which would you opt for and why? Let us know with your comments.