Nexus 7 now on sale via Google Play India but no Nexus 4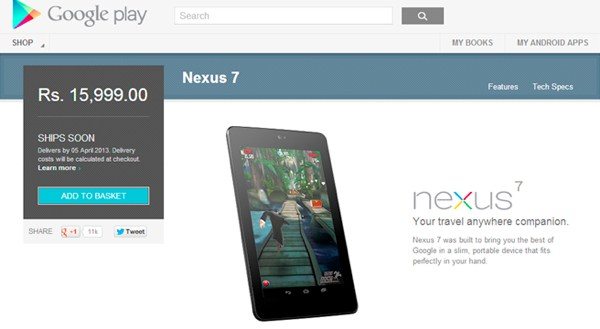 If you're one of our many readers in India then you may have been following our posts about the Nexus 4 still waiting for an official launch there. Unfortunately there's still no sign of the Nexus 4 on Google Play India, despite the fact that India is now listed as a supported country on a Nexus microsite. However you may be pleased to hear today that the Nexus 7 tablet has now been made available to order in India through Google Play.
Only yesterday we discussed the latest situation with the Nexus 4 for India and the growing frustration this is causing. Maybe the fact that the Nexus 7 is now available through Google Play in India is a promising indicator that the Nexus 4 will soon be available through the same route. Enough of the Nexus 4 for now though as the Nexus 7 is what we're looking at today.
The Nexus 7 tablet has been hugely popular in other regions where it has been on sale and it's now posted for sale in the Google Play Store India for Rs. 15,999 (around US $295). That's for the 16GB version, which appears, for now at least, to be the only model on sale through Google Play. Orders are being taken now although a message says it will be delivered by April 5th.
As a quick reminder the Nexus 7 tablet is powered by an NVIDIA Tegra 3 quad-core processor, has a 7-inch display with resolution of 1280 x 800, 1GB RAM and a 1.2-megapixel front-facing camera. It has a 4325 mAh battery, runs on Android 4.1 Jelly Bean and dimensions are 198.5mm x 120mm x 10.45mm.
This is the first device to be sold through the Google Play Store in India so you can bet we'll be looking out for further devices to become available there. Are you pleased to see the Nexus 7 being sold through Google Play in India? Have you got your fingers crossed that the Nexus 4 will soon join it? Let us know with your comments.
Source: Android Police