iPhone 5S leaked components claim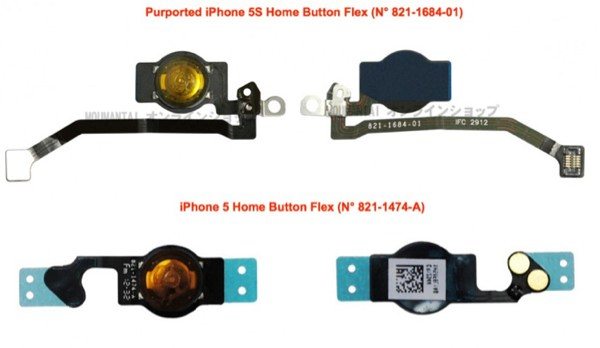 We've been writing about the Apple iPhone 5S almost since the iPhone 5 was announced, or so it sometimes seems. We've already heard plenty about the next iPhone but of course until Apple chooses to announce it nothing is yet confirmed. Nearer to a launch we usually hear more and more rumors of specs and almost always with Apple devices we see what are claimed to be leaked components. Read on for more about some alleged iPhone 5S components that have emerged.
The iPhone 5S could arrive as early as this summer along with iOS 7 at Apple's WWDC and as usual at some stage of the game some parts surface to make us all speculate about what could be coming. An image of a pair of components was apparently posted by Moumantai, a Japanese seller, the first of which is purported to be the home button for the iPhone 5S.
The only difference seen between this home button and that used by the iPhone 5 is that this later version has a longer flex cable that is also routed in a different way to the main logic board. Recently we discussed the possibility of a fingerprint sensor coming to the iPhone 5S or iPhone 6 and this would need to be incorporated into the home button. If this is the genuine home button for the iPhone 5S there's no sign of this so maybe that's an element that will have to wait for the iPhone 6.
The other parts that have surfaced are supposedly the vibrator for the iPhone 5S, apparently affixed to a flex cable that also looks as though it supports the volume and mute controls and being more compact than the corresponding part on the existing iPhone 5. We should point out that as usual, none of this can be confirmed yet although it does come a source that has sometimes been reliable in the past.
We suspect that the closer we get to the iPhone 5S release the more leaked images, parts, specs and features we will hear about. We'll continue to follow developments and will let our readers know all the gen. What are your thoughts on this iPhone 5S components claim? Do you think these parts are genuine or do you find this less than convincing? Let us have your comments on this.
Source: Nowhereelse.fr (Google Translated)