PAC-MAN +Tournaments free for Android, iOS later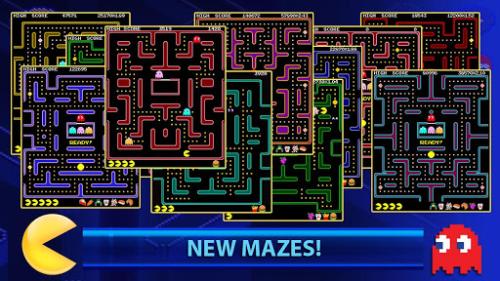 Despite its age many people will fondly remember the classic PAC-MAN arcade game and now for the first time this classic title gets made available and called PAC-MAN + Tournaments, and is free for Android users with an iOS version coming later.
This great arcade game has been made available for Android users via Google Play, and surprisingly iOS users will have to wait to get access to the game as usually big titles such as this take a while to become available for the Android platform.
The game was released at the end of last week and is following the growing trend of the freemium model, and users are treated to the original game with a new tournament mode. The developer will be adding weekly updates that include new mazes that have never been seen before, which will be available via an in-app purchase.
There are also performance based score boosts with lots more bonus items available compared to the original game, and besides the new mazes users are treated to new colour schemes, Tournament rankings, and much more. This new application will undoubtedly bring back many fans to the game as well as finding new ones, and to find out more or to download yourself head over to Google Play.
Is PAC-MAN your favourite arcade game from years ago?