Samsung Galaxy S5 design & deca-core imaginings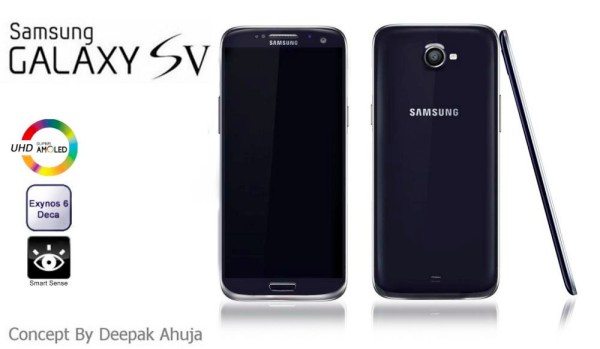 Okay, so all the fuss right now concerns the recently announced Samsung Galaxy S4 and therefore we thought it was time to start looking ahead to the Galaxy S5 (S V). Just kidding, we're still interested enough in the Galaxy S4 for now but it seems that one designer is indeed already considering the Galaxy S5 and has come up with some imaginings including a sleek design and specs including a deca-core processor.
Although it would be even better to know what the genuine Galaxy S5 will look like we don't imagine that Samsung has even considered this in detail yet so we've taken a look at this concept design for the Galaxy S5. From time to time we enjoy looking at concept ideas as the renderings can give us a really good idea of how a future device could look and we can consider if we like it or not.
These renderings come from Deepak Ahuja and although his Galaxy S5 doesn't look drastically different from the current Galaxy phones it does at least look more realistic because of that. We also think this mockup does have a certain something so that it looks a little more stylish than the Galaxy S4 and it also has a touch of added flair to the look of the rear of the 7.1mm thick device.
More interesting perhaps are the specs that Ahuaja has associated with his Galaxy S5 concept and these include a 1.3GHz Exynos 6 deca-core processor, yes you did read that right, deca-core! This would be set up as a quad-core plus quad-core plus dual-core and so consist of a 1.5GHz quad-core ARM Cortex A15 CPU, plus a 1.2GHz quad-core ARM Cortex A9 quad-core processor for the gaming factor and also a power-saving 1.7GHz dual-core processor.
Other specs of this Galaxy S5 include a 5.2-inch Super AMOLED Ultra High Definition display with resolution of 1920 x 1280, 3GB of RAM and 16, 32 or 64GB of internal storage. There's also a 16-megapixel rear camera, 2.5-megapixel BSI and CMOS front-facing camera, a 3100 mAh battery and it all runs Android 5.0 Key Lime Pie. Although these specs might sound far-fetched at the moment, with the speed that mobile technology is currently moving at they might not seem anywhere near as unlikely by the time we get to the Galaxy S5.
Ahuja has even given thought to the colors options for the handset and his Galaxy S5 comes in Majestic Blue, Hazel Grey, Garnet Red and Sapphire Black. We'd really like to hear what you think of these Samsung Galaxy S5 imaginings. Would you like the real Galaxy S5 to look like this concept design? What specs do you think are realistic for the Galaxy S5, which is likely to be at least another year away? Let us know with your comments.
Source: Concept Phones