Samsung Galaxy S2 on Three UK finds its Jelly Bean 4.1 update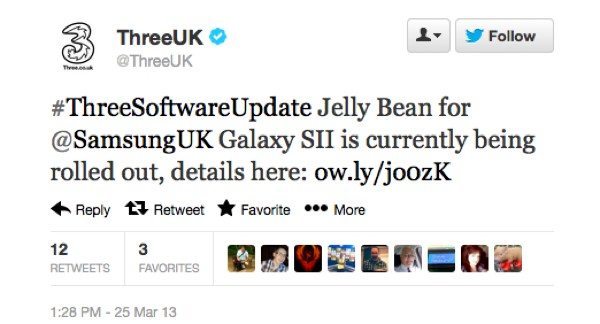 As well as all the news we bring you about new tablets, smartphones, apps and mobile accessories we also like to keep our readers informed about operating system updates for different devices. This has been a busy task lately as Android Jelly Bean continues to be pushed out in different iterations but if you have a Samsung Galaxy S2 on Three UK then we can tell you that your device is about to receive the Jelly Bean update at last.
The Jelly Bean update began rolling out for some Samsung Galaxy S2s way back in January but it was two weeks ago that its availability became more widespread and it started to rollout in various European countries. At this point we told how some users of the Samsung Galaxy S2 in the UK were just starting to receive the Jelly Bean update but for those on Three UK the wait went on.
Today we have heard that Three UK has now joined in the fun for the Galaxy S2 and started to roll out the Android 4.1 Jelly Bean update for the device. Three UK announced this on its Twitter page yesterday and while it's a little late coming the update should be welcomed by owners of the device as it will bring benefits such as Project Butter for an overall improved performance, Google Now and much more.
We're informed that the Galaxy S2 on Three Jelly Bean update will be pushed out in stages so if your device doesn't receive the update straight away please be patient, as it will get to you in the end.
Are you the user of a Galaxy S3 on Three UK and if so have you seen any sign of Jelly Bean 4.1 yet? If you do receive it maybe you could let us know so that other readers have reassurance that it really is on the way.