Lucky Cat adorable Android accessories for good fortune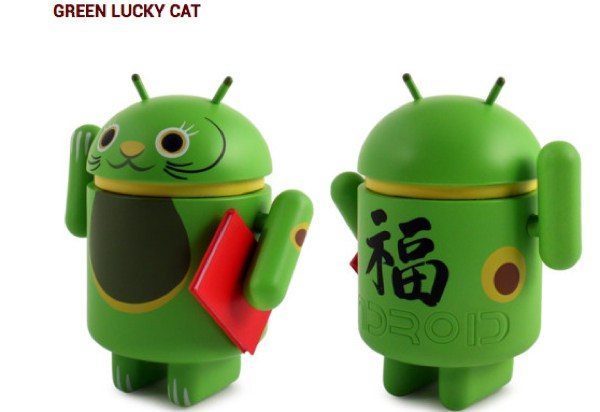 At Phones Review we often bring you details of smartphone and tablet accessories and of course most of these are very useful and have a practical purpose. However the Lucky Cat accessory we have news of for you today serves no real purpose at all apart from looking adorable and supposedly bringing you luck but we couldn't resist these Android collectibles so thought we'd tell you about them anyway!
This Lucky Cat Android Mini Series consists of various colored lucky cats with different accessories and swinging arms as on traditional lucky cats. They are designed by Shane Jessup and available from Dead Zebra Inc and if you feel like you need a bit of a boost on the luck front then these are supposed to bring wealth, prosperity and protection.
Apparently the styles, arms and colors of Maneki Neko (the traditional Lucky Cat) have different regional and historical interpretations and a link on the product page details the luck suggestions for each model. For example the gold lucky cat with right arm raised and a coin collar accessory is linked with luck in wealth and good fortune. If you want luck in relationships on the other hand, then you may be tempted to the pink lucky cat with its left arm raised and a collar bell.
There are 12 different cats in the series and they are in the following 9 color options, gold, white, black, green, yellow, blue, purple, pink, red. The four different accessories are a bell, koban, notebook and coin collar but not all accessories are available for each color. These Lucky Cat Android collectibles each come window-boxed and are priced at $10 (£6.60) each or if you can't choose between them (it's a tall order) you can order the whole set of 12 for $117 (£77.16) plus shipping with deliveries beginning on March 29.
There's something really appealing about these Lucky Cats and to be honest we wish it were Christmas, as they would make perfect stocking filler gifts. We should point out that these are adult collectibles and not to be given to children under the age of 15. If you want to see more or order the Lucky Cat Android Collectibles series then head to this Dead Zebra page.
What are your thoughts on this Android Mini Series of Lucky Cats? Are you ordering one or are you tempted to the set of 12? Let us have your comments.