Google Play rolls out new best tablet apps category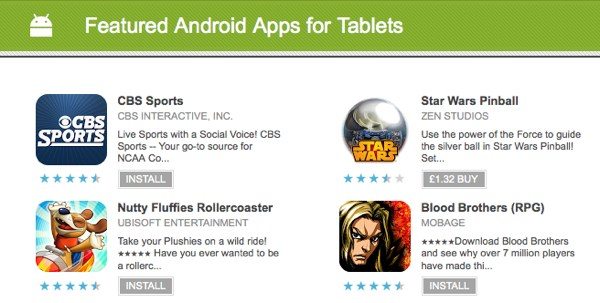 As proof that Google is serious about bringing more tablet-specific apps to Google Play the tech giant has now rolled out a new best tablet apps category in the Play Store. From now, visitors to the Store can see a 'Featured Android Apps for Tablets' section.
The new Google Play category aims to bring attention to some of the best apps that have been developed to accommodate tablet specs and dimensions rather than apps aimed at smartphones that can merely be run on tablets as well. The current selection has 116 apps that are particularly good for Android tablets.
A look at the new section on the Google Play Store shows apps covering many genres. For example for the sports enthusiast there's CBS Sports while for gaming the featured apps include No Zombies Allowed, Real Racing 3 and Star Wars Pinball. For weather there's AccuWeather, cookery Must-Have Recipes from Better Homes and for travel how about Flight Track. There are of course, many more to choose from.
Users can install the apps straight from the Featured Android Apps for Tablets pages and there really should be something for everyone. Certainly this new move should encourage more developers to focus on Android tablet apps, especially with the growing popularity of Android tablets such as the Nexus 7.
You can see the new featured tablet apps page at Google Play here. Are you pleased to see this new category at the Play Store? Will it make life easier for you when looking for Android tablet apps? Send your comments to let us know.