Galaxy S3 dressed in purple could hit Sprint next week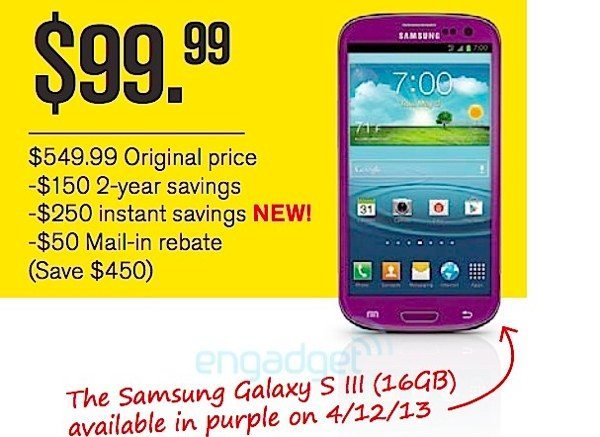 We've seen the Samsung Galaxy S3 arrive in plenty of additional color options since it was first released last year in Pebble Blue or Marble White, although not all color options were available in all regions or across all carriers. With the release of the Samsung Galaxy S4 from later this month it seems strange to come up with yet another color choice of the S3 now but a purple edition of the Galaxy S3 is indeed heading to Sprint.
Since the first release of the Galaxy S3 in blue or white we've seen more colors including brown, red, black and gray, and a few weeks ago we heard rumblings of a purple version for Sprint. In further news today a leaked screenshot shows that the Sprint Galaxy S3 in purple has a launch date of April 12, only next week.
As we've already mentioned it does seem odd to come up with another iteration of the Galaxy S3 with the Galaxy S4 knocking on the door but Sprint seems to have taken this into consideration and have come up with some very competitive pricing for the purple Galaxy S3 on Sprint. The same leaks suggest a price for the Galaxy S3 16G model in purple of $99.95 after a $50 mail-in rebate and with the usual two-year contract.
Of course this also leaves the possibility that some Sprint customers may now choose to forego the S4 and opt to save themselves $100 by purchasing the purple Galaxy S3 on Sprint. Stranger things have happened?
We'd like to hear your thoughts on the purple Galaxy S3 for Sprint. Are you tempted to the color purple? Maybe nothing would persuade you to purchase a Galaxy S3 when the Galaxy S4 is just about to arrive?
Source: Engadget