BlackBerry Q10 SIM free price shock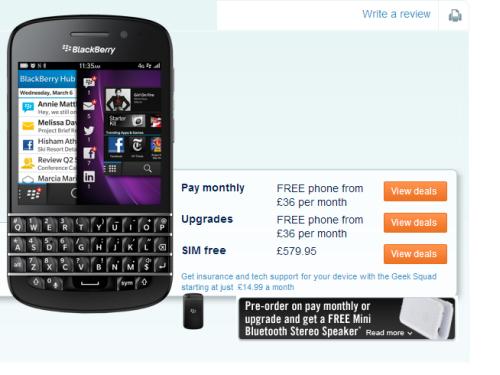 Consumers looking to join the new BlackBerry 10 platform will soon have the choice of another smartphone in the form of the BlackBerry Q10 with its full sized QWERTY keyboard, but the SIM free price of the device may come as a shock to many.
We have already heard how some online retailers had priced the BlackBerry at around £530 unlocked, and more recently UK carrier O2 are also expected to sell the handset for around the same price. Now though high street and online retailer the Carphone Warehouse has opened pre-orders for the handset with a SIM free price set an eye watering £579.95.
The company also has a number of monthly contracts that offer the handset for free starting at £36 per month with Orange, and on the condition of a new two year contract being agreed to.
While pre-orders have kicked off the company has not provided any release dates for the device but it is expected to arrive at some point this month, but it's the rather high SIM free price that will surprise many consumers.
Currently the entry level Apple iPhone 5 can be purchased for £529 directly from Apple, while the Samsung Galaxy S3 can be purchased from Amazon SIM free for only £375. So it remains to be seen if these prices slip shortly after the handset is released, and how well the device sells across the board.
Do you think the BlackBerry Q10 is overpriced?
Phones Review wishes to thank Viral Phone for the heads up on the Carphone Warehouse pre-order