Galaxy S4 vs HTC One, pricing and availability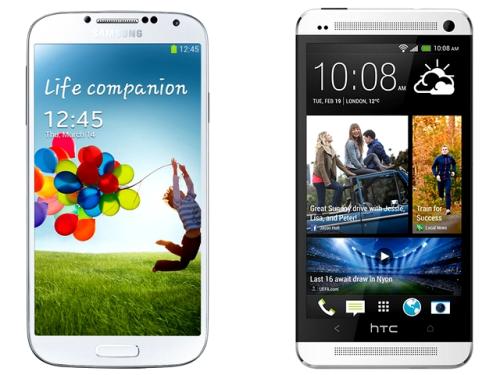 If you are currently in the market for a new high-end smartphone there is certainly some great hardware to be had, with two of the most sought after devices being the Samsung Galaxy S4 and HTC One, and today we are looking at some of the pricing and availability of both handsets in the UK and US.
We will start off with the HTC One as this has already become available to some users in the UK, and can be had with no upfront cost on contracts costing from £34 a month from carrier Three. Orange will let you have the device from £29.99 on monthly plans that start at £41 per month, while Expansys will let you have the device SIM free for £529.99 but you will have to wait until April 27th to get it.
In the US the HTC One has gone up for pre-order and has already sold out on T-Mobile, while Sprint will charge you $199.99 for the device with a monthly plan costing $79.99 per month with shipping expected on April 18th. AT&T are also asking $199.99 for the device with shipping due on 16th of April, or you can get the device unlocked directly from HTC for $574.99 or the Developer Edition is priced at $649.99 with shipping for both on April 18th.
The Samsung Galaxy S4 meanwhile has yet to be released but pre-orders for the device have already started and Amazon will sell the device to UK customers for £579.95 unlocked. If you want to go down the subsidized route with a carrier Three has one of the best deals on offer with a free handset on a contract costing £35 a month with unlimited data and a delivery date of April 26th.
Vodafone will also let you have the Galaxy S4 for nothing on a two year contract costing £38 per month, and this is also expected to arrive on April 26th. T-Mobile will only charge to £19.99 for the handset but this is on a contract costing £61 per month, or if you stump up £109.99 the monthly charge goes down to £36.
In the US things are still a little bit up in the air regarding the Galaxy S4 but AT&T have already shown their hand by announcing pre-orders will kick off on April 16th with the 16GB version priced at $199.99, and the 32GB priced at $249.99.
T-Mobile will provide the device under its new Simple Choice plans with the handset costing $99 with a monthly payment of $20 on top of your monthly subscription over two years, and is expected to arrive by May 1st.
US Cellular has announced that pre-orders will begin on April 16th but currently there is no pricing information given on its website, and it can be expected that the other major carriers in the country will soon be announcing their plans for the Galaxy S4.
Will you be getting the HTC One or Galaxy S4?