BlackBerry 10 first major update to 10.1 before Q10 launch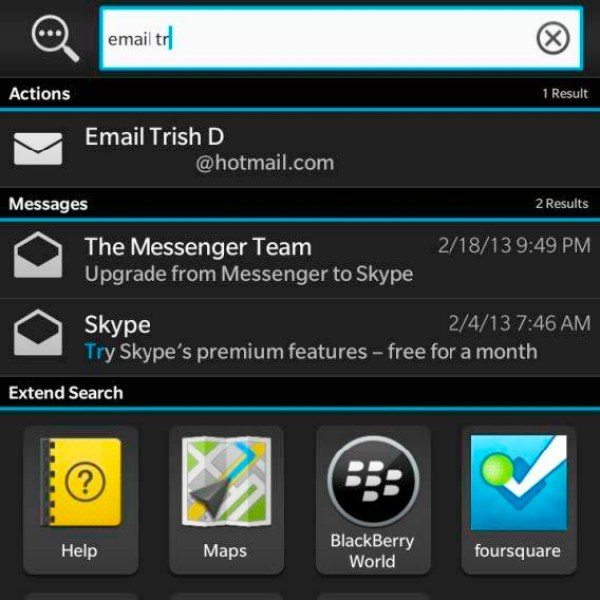 There's some very interesting news today for fans of the new BlackBerry 10 OS and devices running it as the first major update to 10.1 should be released by the end of this month. Although the update will come to those who already own the BlackBerry Z10 phone the BlackBerry Q10 is the second BB10 smartphone and is due to launch later this month. The 10.1 software update is said to be particularly relevant to the Q10 as many of the features are said to be for its QWERTY keyboard.
The first BB10 smartphone to release was the BlackBerry Z10 and this has met with plenty of success with its sleek styling but didn't have the customary physical QWERTY keyboard so admired by BlackBerry enthusiasts. The BlackBerry Q10 will be the first new BB10 device with a QWERTY keyboard and the update to BlackBerry 10.1 will bring a feature called Type N Go enabling quick access to some commands directly from the search bar.
An example of this is if the user types 'email' and then a contact name the email client will be immediately launched and the name added. This is just one example but the same sort of process also applies to BBM, SMS, phone calls, video calls etc. Other features from the BB10.1 update will be shortcut keys using the keyboard hardware buttons. For instance 'i' will zoom in and 'o' will zoom out, 'r' will reply to an email or 'f' will forward it.
Another modification is that the BlackBerry OS word prediction feature will be adjusted specifically for the Q10. Other changes include enhancements to BlackBerry Balance for an easier change between work and personal use and improvement to the security of the phone when being used for work. As well as all this there will be a new darker interface color although apparently this feature will be exclusive to the BlackBerry Q10 and won't change for the Z10.
There are other features named such as Smartcard Support, Out-Of-Box Experience, Mnemonic Phone Dialing and more. BlackBerry has said that some of the changes from the update may behave differently between the Z10 and Q10.The list of changes is comprehensive and you can see much more at the source link though we'd be happy if you could come back to us and let us know your views on the update.
We're really interested to hear what you think about this first major update to BB10 bringing the operating system to 10.1? If you are thinking of purchasing the Q10 with its physical QWERTY keyboard are you pleased to hear the details of this update? Let us know with your comments.
Source: BBIn