5 cool things you can do with an iPhone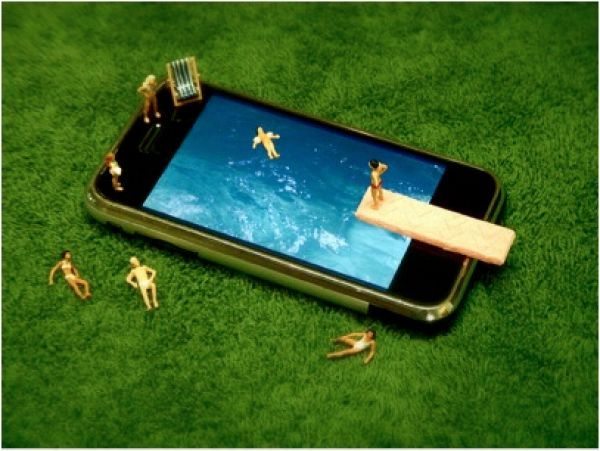 The iPhone is the Swiss army knife of mobile phones. It is quickly becoming a device for anything and everything with an array of useless apps such as a lightsaber, a talking cat, or a monkey that aimlessly stares at you. But there is also a range of brilliantly cool things that you can do with an iPhone that you probably didn't know about.
Volume Button for Steady Pictures
The quality of the camera for the iPhone is undoubtedly one of the best ever for a mobile handset, capturing amazing details and colours. But the touch screen function to capture images makes it slightly tricky to take still focused photos. However, many iPhone users are unaware that they can in fact use the volume button to take stable pictures with both hands horizontally. Try it now and you'll be amazed at how much easier and satisfying it is.
Enhance Photography Capabilities
The volume function for taking photos works incredibly well for focused images, but you can take this further by getting a photo stand. A Glif is an iPhone accessory specifically built for mounting your iPhone on tripods and all sorts of things to film and take amazing photos that the iPhone was built for.
The Glif really enhances the camera capabilities for great wildlife shots of family photos.
Turn an iPhone into a Projector
You can now get various portable projectors for an iPhone to stream videos, live TV, presentations etc. The projector fits onto your phone like a sleeve onto the dock so you can take it anywhere and is great for sharing with friends and colleges without having to all gather around your phone.
Use it as a GPS device
Using the Apple's Find My iPhone online you can track the location of various iOS devices. Built mainly for the use of tracking a stolen or lost iPhone and to find the location of a spouse or family, there have been a number of other creative functions that people have used it for.
For Instance, Fly on the Wall who specialise in wireless spy, security, and wildlife cameras have sent an iPhone into space which was used as a GPS tracking device in their space bacon project.
Use an iPhone as a Wildlife Hub
The Instant Wild iPhone app lets users help biologists identify some of the rarest and most threatened species on the planet. The app streams live photos from motion-sensitive cameras placed remotely around the world every time a creature wanders into view. Users can monitor wildlife from the comfort of their own home and have the opportunity to identify new species for the first time ever. This fantastic app gives animal lovers around the world the privilege to see animals in the wild and step briefly into David Attenborough's shoes.
What other cool things that you can do with an iPhone would you add to this list?
Bio: Gavin Harvey is an iPhone fanatic and is constantly on the look at for amazing things he can do with it. While having a break from playing Angry Birds he works as a fitness instructor and regularly writes blogs for Fly on the Wall who specialise in spy, security, and wildlife cameras.
Image by JD Hancock