New Pebble smartwatch SDK brings Tetris & more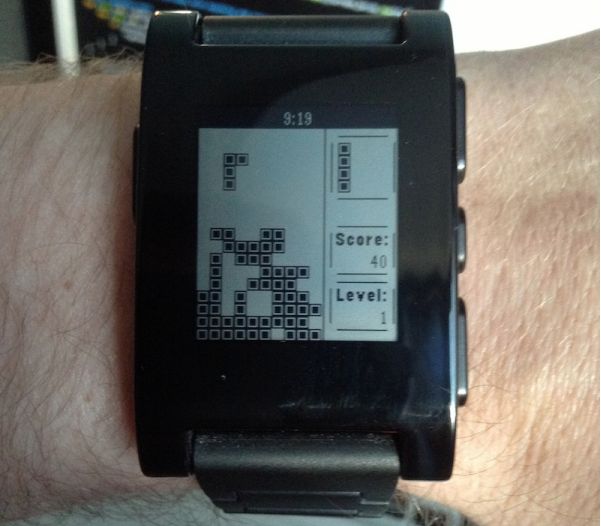 One of the charms of smart watches is that instead of being limited to the functions that it ships with, developers can add new functionality at any time. The Pebble, the first popular smart watch, released its first "proof-of-concept" SDK last week, allowing these developers to get cracking on their own custom watch faces and custom apps.
Already some of these have begun to appear – and as well as the standard assortment of watch faces, some enterprising sorts have got some fairly full-featured games on there.
One such developer is Robert Heese, who has produced a game well suited for the Pebble's e-ink display: Pebblis, a port of legendary game Tetris. You use the top bottom for moving left, the middle button for rotating and the bottom button for moving right.
There are a few issues though – you need to start from the beginning each time (there are no save states) and controlling things isn't particularly intuitive. Still, on balance it all works very well – it's like having a Game Boy on your wrist, but with a nicer display.
Other developers have also produced games, including James Grandpre with a Pebble version of Pong and Steven Staff with a version of Pocket Pikachu.
If you want to check out the games and other apps, have a look in the Get Pebble forums. Reportedly it's easier to install the new apps via Android than iOS, but it is possible for both platforms.
What do you make of this new functionality – does it make the Pebble an essential mobile accessory, or would you rather play on your smartphone instead of going through a third-party? Let us know in the comments below!