Acer Liquid E2 for mid-May steps up to quad-core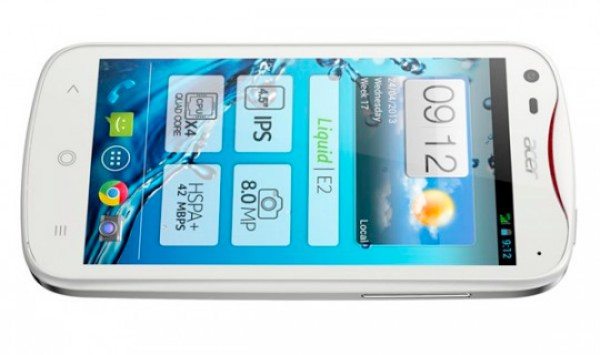 We have more new smartphone details today as Acer has just revealed the Liquid E2 Android handset. Similar in specs to the Liquid E1 the E2 steps up to a quad-core processor and will release from mid-May in some European countries.
Although the Liquid E2 has some specs akin to the Liquid E1 it has a different quite attractive design. It's also an Android device although which version has yet to be specified. However, as the Liquid E1 released on Jelly Bean 4.1.1 we would hope for at least the same if not Jelly Bean 4.2.
It will be available from the middle of May in Belgium, France, Germany, Italy, the Netherlands, Russia, Spain, the UK and Ukraine at a price of €229, that's around £195. Specs include a quad-core processor, 4.5-inch qHD display with resolution of 960 x 540, 8-megapixel rear camera with zero shutter lag and 2-megapixel front-facing shooter.
Other specs of the Liquid E2 include optional dual-SIM, 42Mbps HSPA+, WiFi, Bluetooth, GPS, FM radio, dual front stereo speakers, 3.5mm audio jack and microSD card slot. This phone will come in black or white colour options.
What do you think about the Acer Liquid E2? Does the phone design appeal to you and do you think the price is reasonable? Let us know by sending your comments.
Source: Android Community