M8 UK navigation app adds Stephen Fry voice commands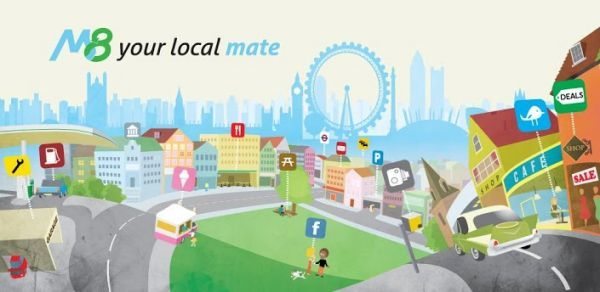 Mobile app M8, your local mate in the UK has added the unmistakable voice of British icon Stephen Fry to its lineup of celebrity and novelty voices available to deliver voice commands and turn-by-turn navigation. M8 UK has introduced the unmistakable voice of Stephen Fry to the roster of artificial voices available to users of the smartphone sat nav app.
The navigation app – which offers UK users fully integrated hyperlocal content from trusted sources -now gives smartphone owners the option of having turn-by-turn navigation prompts read by the star of Blackadder, Oscar Wilde and QI.
Welcoming the much loved TV personality, author, actor, comedian and advocate for innovative technology to an impressive lineup that includes the voices of popular and well known actors Kim Cattrall and Verne Troyer, the voice of Stephen Fry – widely considered a bastion of UK culture – is available to users operating M8 UK on iPhone, Android and BlackBerry Touch devices.
Boosting what is already a rich and compelling mobile experience – unique to the UK – the introduction of Stephen Fry to the range of novelty synthetic voices on offer as part of the satellite navigation functionality, will undoubtedly appeal to a wide range of the population, and further enhance the overall travel experience.
With enabling the M8 community to better connect with the people and places around them wherever they are in the UK being one of the app's core missions, the location-based services delivered within the app as standard include; the provision of turn by turn directions and cashpoint finder, real time traffic news and parking locator, speed camera notifications, active MyVoucherCodes deals, and integrated content from Trip Advisor UK, Lonely Planet and Yelp. Continuing to support M8 UK users as they explore the British Isles, this latest addition to the M8 app strengthens user engagement and aims to boost the enjoyment taken from using an app that is so tightly integrated into popular UK culture.
"Being able to offer such a personality – someone who is widely considered a national treasure – to deliver directions to M8 users is a great moment for us. Stephen Fry is undoubtedly one of the most widely recognised characters in the UK and his passion for British culture, together with his zeal for pioneering technology makes him a perfect match for M8 UK.
"Who wouldn't want to hold an icon like Stephen Fry in the palm of their hand? Having seen how popular the Verne Troyer and Kim Cattrall voices have been so far, we're certain that the M8 community will want to grab the chance to have this much loved personality in the passenger seat, handing out directions as they travel around the UK," explained Tim Owens, UK Country Manager at Telmap, developers of the M8 UK app.
Available to users of the M8 UK sat nav app as a one off in-app purchase, the Stephen Fry voice joins a host of novelty voices including Mission Control, God, Verne Troyer and Kim Cattrall to deliver M8 UK's turn by turn navigation in real time.