Samsung Galaxy Core for Russia and China mid-May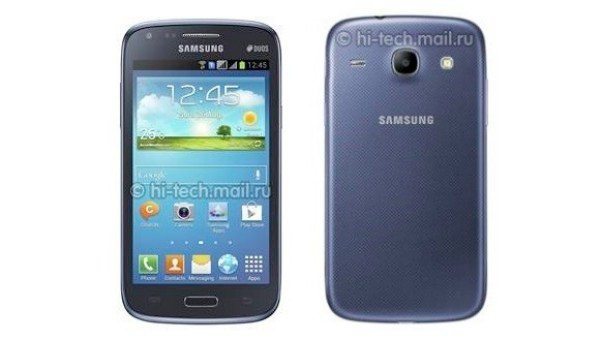 If you're in Russia or China then we have some leaked details to share with you about a new Samsung handset, the Galaxy Core i8262. A release is anticipated for mid-May for both of the above countries and although nothing has yet been confirmed the phone is also likely to release in other parts of Europe and Asia.
This is not a high-end smartphone but the Samsung Galaxy Core will run on Android 4.1 Jelly Bean and also is a dual-SIM device. Other leaked specs include 1.2GHz dual-core processor, 4.3-inch WVGA display and 768MB of RAM. There's only 8GB of internal storage but the phone has a microSD slot for expansion.
The Galaxy Core GT-i8262 has a 5-megapixel rear camera with LED flash, Wi-Fi, Bluetooth 4.0, GPS and 1800 mAh battery and dimensions of the phone are 129.3mm x 67.56mm x 8.95mm while it weighs in at 140g. The price is expected to be around €320 or 12,990 RUB.
Design-wise it looks pretty much the same as other Samsung Galaxy phones so is nothing to get too excited about but looks like a decent enough standard handset. See the image above to see for yourself.
We'd like to hear your thoughts on this latest Samsung smartphone. Are you in Russia or China and does this look like something that could interest you? Do you think the price is reasonable for what the phone has to offer? Why not let us know by sending us your comments.
Source: Hi-tech@mail.ru (Google Translated)