NFL Draft Picks 2013 Android or iOS app for live news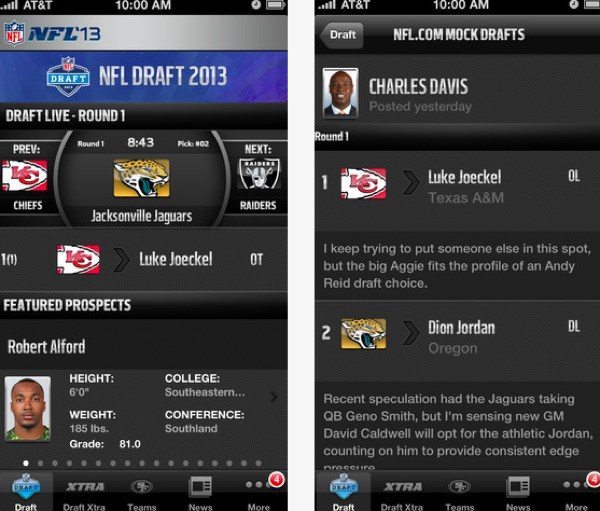 We often bring readers news on popular or useful apps and today we have details of an Android and iOS official NFL app for NFL draft picks 2013. The NFL '13 app is available from Google Play for Android devices or the App Store for iPhone, iPod touch and iPad. It's a free app and we have further information and links to download ahead.
The NFL '13 app is from NFL Enterprises LLC and enables users to follow all the NFL news and the NFL draft live within the app. Users of the app can sign up for 2013 Draft Alerts by team, player and round and the app offers in-depth coverage to keep up with league news and keep informed on the players. Football fans can also check scores and obtain game reports, see team standings in the league and also listen to NFL game highlights.
As well as this the app also enables users to watch post- game press conferences and read post-game analysis, visit NFL team pages, see the game schedule, roster and stats. You can also follow the Twitter feeds and join in the discussion about your favorite team. NFL '13 is a highly rated app and both the Android and iOS apps have been updated in the last few days.
If you want NFL '13 for Android then head to Google Play here. This free app is compatible for devices running Android 2.3 or later. Meanwhile the NFL '13 Int'l app for iOS devices is available from iTunes here. This is compatible for iPhone, iPod touch and iPad running iOS 4.3 or later and has been optimized for the iPhone 5.
We'd like to hear your thoughts on NFL '13 if you download it from Google Play or the App Store or if you are already using it. Please send us your views on the app by letting us have your comments.