Galaxy Note 3 new spec rumors and leaked image emerge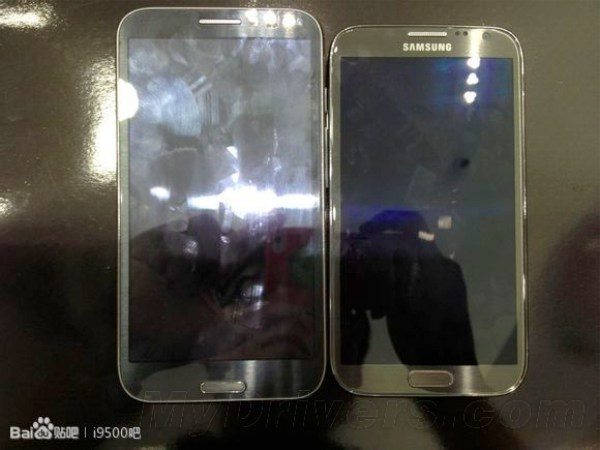 Rumor is rife regarding the Samsung Galaxy Note 3 smartphone especially now that the Galaxy S4 has released or is about to release in regions worldwide. We've been posting about rumors and leaks on the Galaxy Note 3 for some time and always get a little excited when new details come to light. Today we have heard new spec rumors and a new leaked image has also emerged.
We have previously seen a leaked image purporting to be of the Samsung Galaxy Note 3 although that was later refuted. This new leaked image (below) also claims to be of the Galaxy Note 3 and if accurate it looks very similar to the Galaxy Note 2.
We should point out that we have no way of verifying if this is genuinely the Galaxy Note 3 or not but of course some of these leaks do turn out to be the real deal eventually. However the bezel does look rather large and the model number GT-I9500 is missing the 'N' that Samsung usually uses for the Note series so at this stage we're not over-confident that the image is authentic.
The same source also reveals specs for the Galaxy Note 3 and claims an Exynos 5410 Octa-core processor, 5.9-inch full HD display, 3GB of RAM and internal storage of 32GB (expandable via microSD), all running on Android 4.2 Jelly Bean. As well as this we also hear that the Galaxy Note 3 is expected to be revealed at IFA 2013 in Berlin in September. We also posted recently about the Knox security solution and how it now seems likely to come to the Galaxy Note 3.
While for now we have to treat these specs and image with a pinch of salt we know for sure that we will continue to follow developments for the Galaxy Note 3 and of course will pass that news onto you as we hear it. In the meantime we'd like to hear your thoughts on the new leaked image.
Do you think there's any chance that this is genuinely the next Galaxy Note smartphone? What are your thoughts on these alleged specs? Let us know by sending your comments.
Source: MyDrivers (Google Translated)