iPad 2, 3 and 4 keyboard case from Belkin releases May, positive review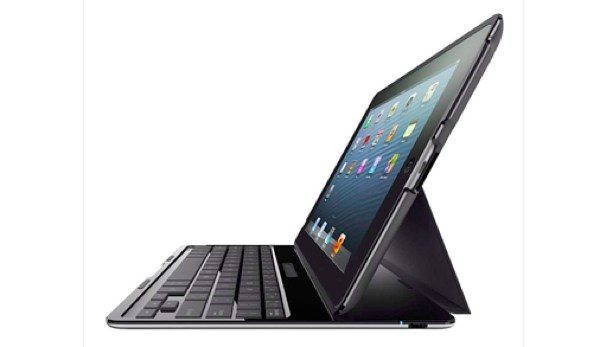 We have details today of an upcoming keyboard case from Belkin that's suitable for any full-sized iPad from the iPad 2 onwards. The case will release later this month and could be the perfect accessory for business iPad users or for those on the go. This is a functional and impressive keyboard case so read on for more about the Belkin Ultimate Keyboard Case for iPad 2, 3 and 4. We also have a video review to show you.
This is an aluminum, lightweight keyboard case at 6.4mm thick and 17oz in weight. It offers TruType keys offering a decent typing experience and also has built-in shortcut keys. It snaps securely to your iPad giving you a keyboard and protection at the same time and your iPad will also wake or sleep when opening the cover or closing it thanks to AutoWake magnets.
The iPad can also be secured in three different positions with the use of precision-hold magnets and if you're not using the keyboard it simply folds back so that you can still hold your tablet comfortably. The Ultimate Keyboard Case is paired to your iPad via Bluetooth 2.0 so there's no messing around having to plug it in and it has a rechargeable battery running for up to 160 hours between charges or up to 1,900 hours if in standby mode. Audio is also enhanced with SoundFlow design directing sound from the iPad towards the user.
Below this story you can view a video review of the Belkin Ultimate Keyboard Case for iPad (4th & 3rd generation) and iPad 2 in which the reviewer seems pretty impressed. It also gives you a really good all-round look of this accessory. This keyboard case comes in two color options, black priced at $99.99 or silver with white keyboard priced at $129.99 and is available later this month from Belkin here where you can also sign up for notification of its release. The iPad 5 is expected to release within the next few months but we don't yet know if this will also be suitable for the next Apple tablet.
We'd like to know if you have been looking for a keyboard case for your full-sized iPad 2, 3 or 4? If so will you be ordering the Belkin Ultimate Keyboard Case?