Android Jelly Bean passes ICS in user base share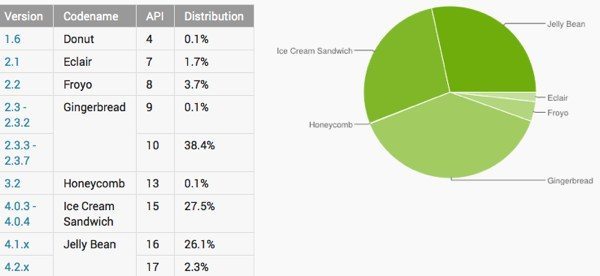 It's always interesting to look at the latest statistics regarding the Android operating system platform and current adoption rates of the different versions. The newest information available informs us that the user base of Android Jelly Bean has now passed that for Ice Cream Sandwich. However, Android Gingerbread is still the most widely used version of Android OS.
For the month of April 2013 the latest figures revealed by Google show that Gingerbread is still the most prevalent version of Android being used with a 38.5% user base share although its share did fall by 1.3%. Different versions of Jelly Bean (the latest version of Android) combined have now overtaken the versions of ICS being used.
Breaking that down, of 28.4% on Jelly Bean 26.1% of Android devices are running the first 4.1 version of Jelly Bean (up by 3.1%) while a much lesser amount of 2.3% are using the latest 4.2 version of Jelly Bean (up by 0.3%). Meanwhile devices running ICS account for 27.5%.
We should point out that some of these changes may be accounted for by the fact that Google is now using a new metric to measure the adoption rates of various Android versions. The amount of devices that were connected to a Google server accounted for how Google measured adoption rates previously. However now Google tracks manual users visiting the Play Store.
It will certainly be interesting to see the next set of figures although it looks like it may be quite some time before the user base of Jelly Bean catches up with Gingerbread. We're interested in any comments you have to make on these latest figures so do send them in to us.
Source: Android.com