iPhone 5 cases from Barbour for classic British style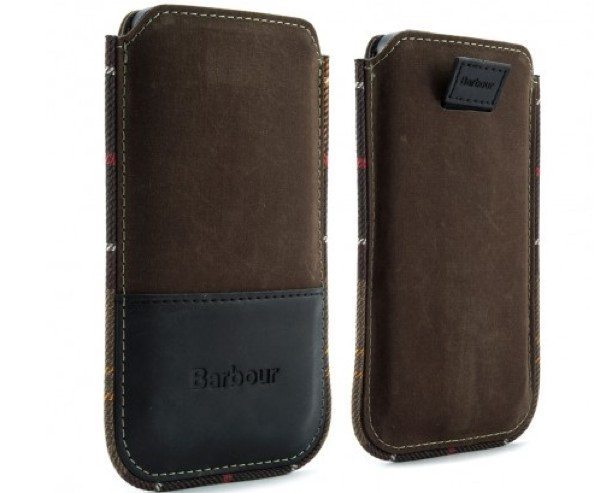 If you're a fan of British fashion or simply British and proud of it then you may be interested in some Barbour iPhone 5 cases that offer classic British style. These cases from Proporta have that quintessentially British flavor and as well as looking good will give your iPhone decent protection.
We'll give you some brief details of some of the Barbour cases available for the iPhone 5. Many will associate the Barbour name with its traditional waxed or quilted jackets and some of these cases reflect some of that styling.
First we have the Barbour iPhone 5 Pouch – Waxed Cotton. This is an olive-coloured slimline case with the Barbour logo and easy pull-tab opening. It's soft to the touch and has tartan interior lining and will protect your iPhone from the usual bumps and scrapes of everyday living and costs £34.95.
Tweed fabric is also inherently British and if you're a fan then how about the Barbour iPhone 5 Pouch — Tweed. This is essentially the same case as the first we detailed, also has a tartan interior lining and is also priced at £34.95.
If you like traditional tartan there's also the Barbour iPhone 5 Cover — Tartan. This one is priced at £39.95 and is a flip case for all-around defence from damage such as drops and scratches. It also has a useful credit card slot and cutouts that give access to functions.
Next for your consideration is the Barbour — iPhone 5 Leather Flip Case with a price tag of £39.95. This one is obviously in leather and also has tartan interior lining, a handy interior card slot and cutouts for access to functions.
Now for a touch of quilted delight with the Barbour — iPhone 5 Cover — Quilted Flip. This case comes in a choice of colours (grape, navy, olive and terracotta) with easy access thanks to cutouts and once more, a card slot. Of course it also offers good protection and the price is £39.95.
Other Barbour iPhone accessories include Hard Shells in blue, brown or olive at £24.95 offering tough protection with a quilt-effect finish and there's also the Welly Shell Collection for no-fuss protection. This is £19.95 and comes in blue, grape, green or red color options.
Some of the above cases are already available while some can now be pre-ordered ready for availability. For more details or to order, head to Proporta here. We hope that you find something to please your taste amongst this selection of Barbour Cases from Proporta. If you find just the case you were looking for why not let us know by sending us your comments.