Samsung Galaxy S4 T-Mobile update today is nothing special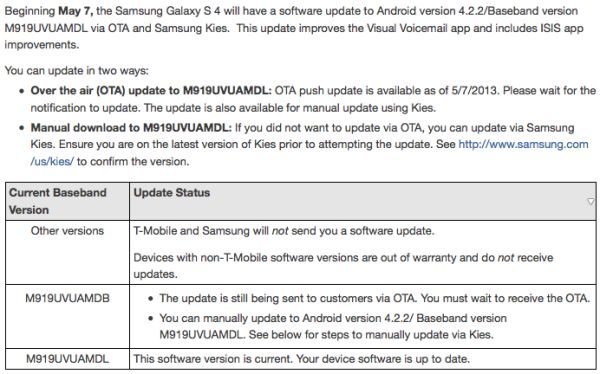 The Samsung Galaxy S4 T-Mobile smartphone is receiving its software update today (May 7th 2013), but do not get too excited because there is nothing special to see here.
It has only been just a fraction over a week since the T-Mobile Samsung Galaxy S4 was released, and already and available today is the new M919UVUAMDL software update.
This update is very small and adds improvements to the Visual Voicemail and ISIS apps, other than this there is nothing of real importance. This update is rolling out today OTA and the update can be downloaded via KIES.
Other than ISIS and Visual Voicemail apps receiving improvements there is not much else we can report here, so please do come forward if you download the T-Mobile Samsung Galaxy S4 update today, the more you can tell us the better for our readers.
It is good to see T-Mobile keeping on top of things with current updates, if you notice anything different such as bug fixes, other improvements etc, please do come forward and use our commenting area below.
Source – T-Mobile