World Weather Map HD app for iOS will help plan that trip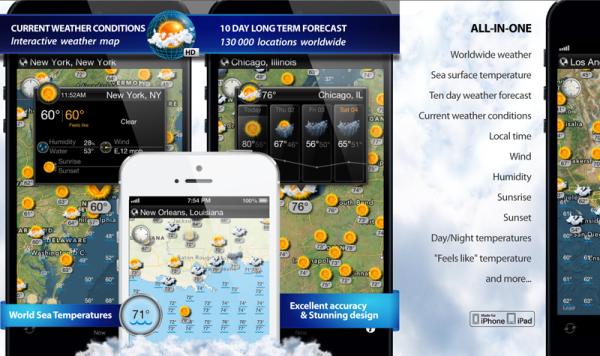 It is getting to that time of year again where many of us will be planning days out that can be seriously affected by what the weather throws at us. Now the recently updated World Weather Map HD app for iOS can help users plan that trip or other outdoor event.
This great app has recently received an update that is ideal for travellers, anglers, and anyone else that are planning on spending time out in the open. The application is promised to be the fastest and easiest to use service of its kind that will provide all that important weather information directly to a map.
It will include information that includes the current weather conditions, sea surface temperature, wind speed and direction, humidity, and much more. If you are planning a fishing trip or a day out on the beech this application will be ideal keeping you informed with all that important weather information, which is localized in 38 languages.
Users are provided with the forecast for up to ten days ahead for locations around the world and also supports Celsius and Fahrenheit temperature scales. This clever application is available for the introductory onetime fee of £0.69/$0.99 on the App Store, and is available for users of the iPhone, iPad, and iPod Touch running iOS 4.3 or later.
Do you use weather applications on your mobile device?