iPhone 6 & Mini design ideas that impress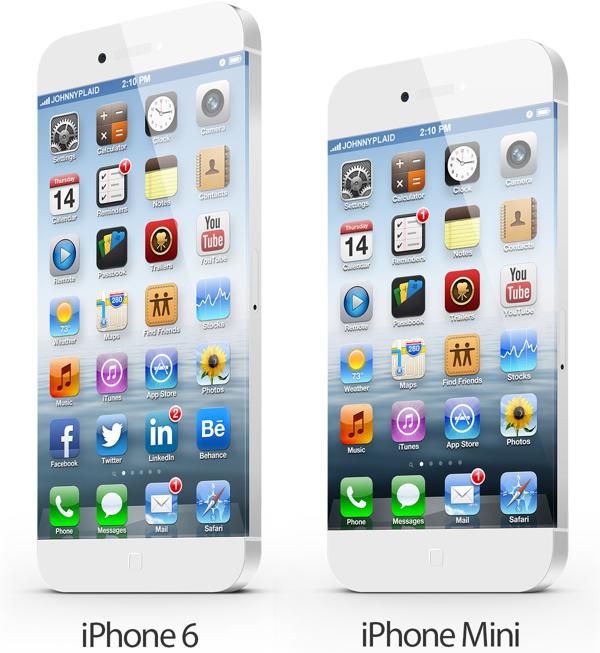 While next month we should see the new mobile operating system from Apple it is not thought that we will see a new smartphone until later in the year. It is widely believed we will just see the iPhone 5S that will be a minor refresh over the current model, but today we have the iPhone 6 and iPhone Mini design ideas that impress.
We have seen a number of concept ideas for the iPhone 6 recently but today we have a couple of new ones courtesy of iPhoneMy that also include an iPhone Mini. The iPhone 6 features an edge to edge display that has long been rumoured to be coming from Apple, and manufactured out of a new aluminium carbon fibre.
This would provide a handset that would be 40 percent lighter than the iPhone 5 but more importantly 60 percent stronger. The current iPhone 5 has fared well against rival smartphones in recent drop tests but with this material it would perform even better, but you would have thought the price of the device would increase by quite a bit.
Other standout features of the iPhone 6 concept would be the removal of the Home Button, which wouldn't go down to well with some iPhone fans though. The iOS 8 software would provide users multi touch gestures along with the option of complete customization of HomePad gestures.
The iPhone 6 concept would only measure 7.6mm thick and at a weight of only 67.2 grams on a handset that features a 4.5-inch Retina Display. Under the hood is two 2.8GHz Apple A7 quad core processors in either 128GB or 256GB storage options.
On the back is a 20.2-megapixel camera that is capable of 2K video capture while around the front is a massive 8-megapixel shooter, and if the device was ever produced for real it would be four times faster than the iPhone 5 and twice as fast as the Galaxy S4.
There isn't much information on the iPhone Mini design except the handset will be the same size as the iPhone 4S but will have a bigger display as there are no bezels surrounding it, and to see more images of the concept designs use the link above.
Thanks to Viral Phone for the heads up.