iPhone 6 needs to fill space up to iPad mini 2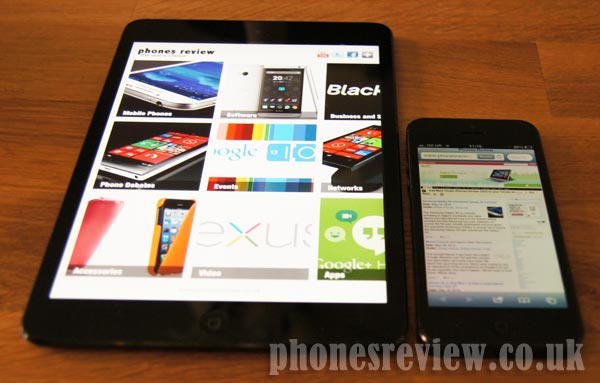 One thing we know about the iPhone 6 and iPad mini 2 is the fact that changes will happen, although exactly what new specs and features will be included is made up of both speculation and leaked parts delivering clues as to what might be. How much the next iPhone changes might depend on whether it's a major update named iPhone 6, or a lesser change with a 5S model featuring new colors and enhanced hardware.
Let's say the major changes happen with iPhone 6 in 2014, then at this point there will be some big design changes and improvements needed to specs. We know thousands of iPhone users already have a long wish list, but if the 5S arrives this year as only enhanced specs and a minor change to the design, then for Apple to keep users they'll need to offer something more radical with different display sizes.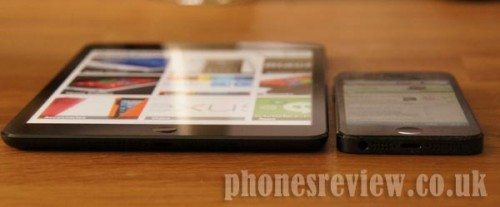 Today, we wanted to highlight the size difference between the iPhone 5 and the iPad mini, which as you can see is a lot when they are placed side-by-side. If we had a photo of the Galaxy Note 2 next to the iPad mini the size difference wouldn't be as extreme, but still easily noticed.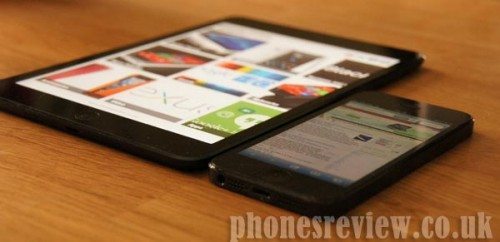 We don't yet know the screen size for iPad mini 2 but you can expect it to stay pretty much the same, at 7.9-inches, and with the latest rumors hinting at the iPhone 5S seeing a release date in 2013 with roughly the same display size, this will disappoint a lot of people if it happens.
If we are to believe a bigger upgrade is coming next year in the form of an iPhone 6, then that release date should arrive with a design that fills the gap between Apple's iPad and phone. We understand that not all users want a phablet and some people enjoy the iPhone in what they call a real phone size, but the industry has changed over the past couple of years and the demand for bigger smartphones is growing, so will Apple act in time?
We would love to hear from our readers about the need to fill the gap with an iPhone 6 in bigger screen sizes, so leave a comment with your ideal display size for iPhone 6 and if you could wait until 2014 for Apple to make that change? If the iPhone 5S arrives this year with the same display size, will you stick with Apple? Yesterday, we touched on some new glass technology that should make an appearance on a future iPhone.