LG Optimus L5 II review, price and visual explored
If you have been looking to learn a little more about the LG Optimus L5 II, then you will love the two videos we have embedded on this page, which deliver a closer look at the new smartphone running on Android 4.1.2 Jelly Bean.
The first video runs for just over one and half minutes, so you can skip this video if you don't want to see the handset unboxed and would rather a more detailed review of the LG Optimus L5 II. This is what you'll find in the second video below, although we know some of our readers will want to know what accessories come inside the box.
LG Optimus L5 II review — the second video is much longer, 9 minutes and 49 seconds, which is thanks to it delivering a full review detailing the main Optimus L5 II specs and features. They aim to find out if this smartphone offers more than first meets the eye, because it doesn't standout on paper.
This review also offers a look at video capturing with the LG Optimus L5 II, music features, and runs through many of the main tasks you might perform on a smartphone.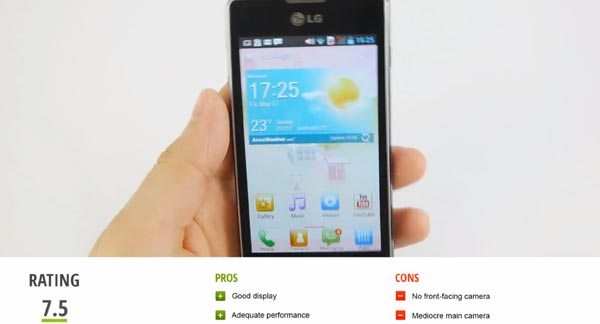 The reviewer explains that this LG smartphone has no-front-facing camera and the main camera is mediocre, although they found the display pretty good and performance was adequate for the price (around £130 in the UK).