LG Optimus G Pro vs. Samsung Galaxy Note 2 skirmish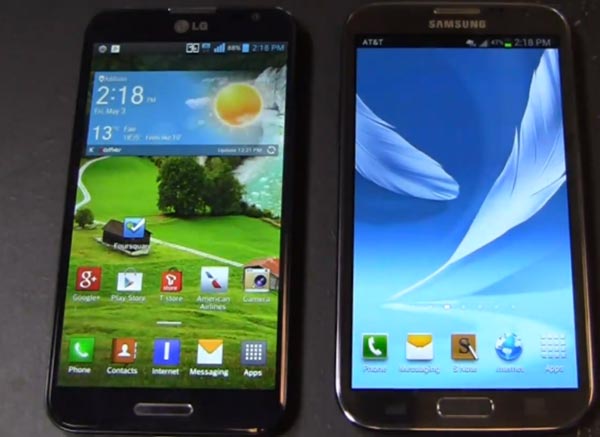 We cover a lot of smartphone comparisons on Phones Review but we haven't really featured the LG Optimus G Pro vs. Samsung Galaxy Note 2, which is exactly what we have on offer today thanks to a two-part review found below this article.
When we first saw the phablet gaining popularity it still met a lot of mockery from traditional phone users, although big smartphones in 2013 are welcomed a lot more and preferred in many circumstances. If you don't want a tablet and smartphone, then handsets like the Samsung Galaxy Note 2 and LG Optimus G Pro offer a screen size that delivers some middle ground.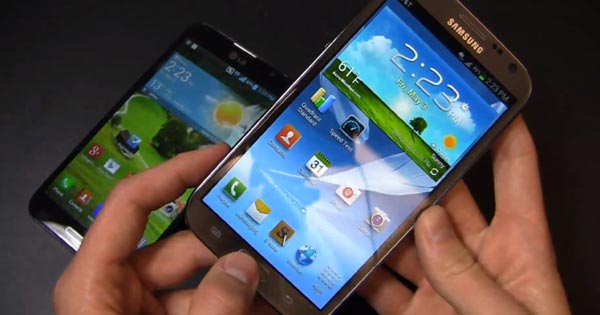 LG Optimus G Pro vs. Samsung Galaxy Note 2 specs in review — take a look at the two videos below for a detailed look at the features and specs for both devices. It is great seeing a page listed with specs for each device, but in our opinion you can't beat extra insight gained from a hands-on approach showing the specifications in a visual manner.
The reviewer aims to explain the pros and cons for both the Galaxy Note 2 and Optimus G Pro. The first video runs for just over 12 minutes and the second for almost 11 minutes, which in total delivers one of the best Samsung Galaxy Note 2 vs. LG Optimus G Pro comparisons we have seen to date.
We'd also like to point out the majority of YouTube users like both video reviews, although feel free to leave a comment on both the hands-on videos and your preference of LG Optimus G Pro or Samsung Galaxy Note 2?
In our opinion, the LG Optimus G Pro offers specs that are more up-to-date, but the user experience might not be for Galaxy Note 2 fans. The Samsung Galaxy Note 3 should see a release date towards the end of this year, so you might want to wait for those specs before deciding. If you love keeping up with news about the LG Optimus G2 as well, then take a look at our specs and photo update in an article published yesterday.