Nokia Lumia 945 with 41-megapixel Pureview imagined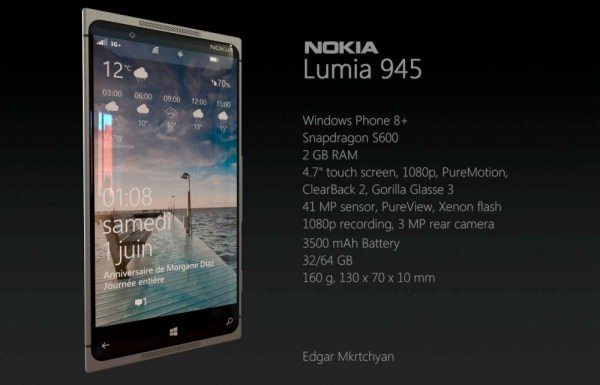 Many of you will have been reading details of an upcoming new Nokia flagship smartphone, the Lumia EOS. Not long ago we told how Nokia was reported to be testing two different versions of the EOS, and now one designer has come up with his imagining of the Lumia EOS as the Nokia Lumia 945 that sports a 41-megapixel PureView camera.
The Nokia Lumia 945 is clearly a concept design based on the EOS, but it does give us a good idea of just what the real article could look like. Obviously at this stage we don't have any idea of whether this will look like the genuine Lumia EOS but we'd like to know if you would like to see it with a similar design to this concept?
Not long ago we shared another Nokia Lumia EOS concept with readers that you can see here and it would also be good to know if you prefer the earlier concept or this latest one? The Lumia 945 concept comes from the mind of Edgar Mkrtchyan and is reminiscent of both the Lumia 920 and 925 design-wise. It has an anodized aluminum frame with a polycarbonate and customizable rear shell.
Similarly to the HTC One there are speakers on the front of the handset while the camera set-up appears to be based very much on the Nokia 808 Pureview. The Lumia 945 is powered by a quad-core Snapdragon 600 processor, with a 4.7-inch full HD display with ClearBlack 2 and PureMotion, 2GB of RAM and 32 or 64GB of internal storage.
There's also Gorilla Glass 3 and a sizeable 3500 mAh battery but the focus (excuse the pun) of the phone is its camera. The Lumia 945 features a 41-megapixel rear camera with 1080p video capture capabilities and a Xenon flash with a 3-megapixel front-facing shooter. That's a set-up that would impress almost anybody. It also runs a Windows Phone 8+ operating system and weighs in at 160g with dimensions of 130mm x 70mm x 10mm.
It all looks pretty good to us, but we're interested to hear what you have to say. Do you like the look of this Lumia 945 concept and would you like the Lumia EOS to follow these lines? Maybe you prefer the earlier concept that we showed you (linked to above)? Why not let us know with your comments.
Source: Concept Phones