Samsung Galaxy S4 vs S4 Mini vs S3 Mini, differences made clear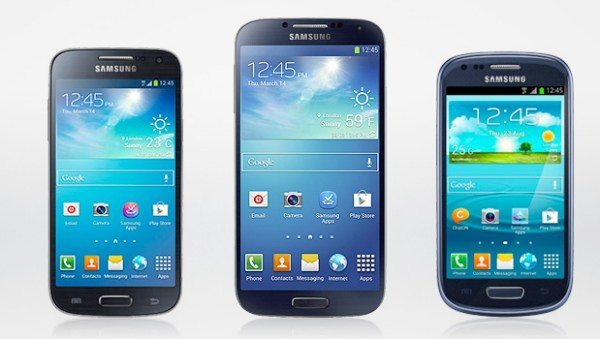 One of the hottest devices right now is the Samsung Galaxy S4 that has just arrived for sale in many regions across the world. We have also been keeping readers informed with news about the Samsung Galaxy S4 Mini. If you're wondering whether to splash your cash on the Galaxy S4 or wait to see what the S4 Mini has to offer, then the differences are clearly shown on an infographic we have for you showing the Galaxy S4 vs. S4 Mini vs. S3 Mini.
A release date has not yet been specified for the Galaxy S4 Mini, but we are hoping to hear more about this phone at a Samsung event being held in London on June 20, along with the Galaxy S4 Active. The S3 Mini was released last year so may not be something you will consider. Nevertheless it's interesting to see how this year's Galaxy S4 Mini compares to the 2012 Galaxy S3 Mini.
The infographic we are showing readers clearly shows how all three of these devices compare with details such as dimensions and weight along with key specs. For example the Galaxy S3 Mini totes a 1GHz dual-core processor while the S4 Mini has a 1.7GHz dual-core processor. The just-released Galaxy S4 on the other hand has a 1.9GHz quad-core processor (although this varies dependent on region, and some models of the Galaxy S4 sport a 1.6GHz Octa-core processor).
The differences here are quite significant then, but you may be more bothered about the size of the device. The new Galaxy S4 measures 5.37 x 2.74 x 0.31-inches while the upcoming Galaxy S4 Mini measures 4.9 x 2.41 x 0.35-inches. When looking at weight the S4 is 4.58 oz compared to the Galaxy S4 Mini at 3.77 oz.
As far as the price is concerned current Amazon prices are $303.99 for the Galaxy S3 Mini and $658.55 for the Galaxy S4 (as of May 30). The price for the S4 Mini has not yet been made official although it's rumored that it may cost around the same as the S3 Mini when it first released.
Hopefully the infographic below will help make your choice clearer if you are undecided between these devices, and we'd like to hear from readers about this. Will you opt for the Galaxy S4, or does the more compact form factor and cheaper price of the S4 Mini appeal to you? Let us know with your comments.
Source: AndroidPIT