Gingerbread falling to Jelly Bean, roll on 4.3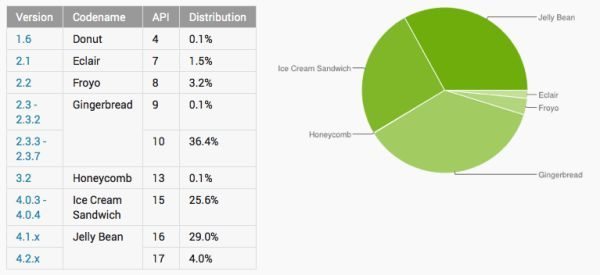 There are many smartphones on the market running different Android operating systems, and the stats are now in revealing that Android Gingerbread is falling to Jelly Bean. The latter is starting to make ground on the GB OS now so it makes us wonder where these stats will stand once Android 4.3 is released.
The stats provide information on the number of devices running the Android platform, and based on these devices visiting the Google Play Store.

The Percentages (OS / Distribution)
Donut 1.6 0.1%, 1.5% for the Éclair 2.1 OS, Honeycomb 3.2 reached 0.1%, Froyo 2.2 only reached 3.2% of all Android devices, Gingerbread 2.3/2.32 distribution is at 37%, Ice Cream Sandwich 4.0.3/4.0.4 has reached 25.6%, and Android Jelly Bean 4.1.x/4.2.x distribution figures is showing at 33%.
It shows that Android Jelly Bean is getting much closer to Gingerbread; this will most definitely change when Android 4.3 is released. It is still a massive jump at 4.5 percent compared 28.4 percent last month.
Jelly Bean is starting to take over Gingerbread because of devices such as the Sony Xperia Z, HTC One, Samsung Galaxy S4 etc, and with many cheaper Android devices being released with Jelly Bean on board it only makes JB more popular.
There are many cheaper Android smartphones out there, like the Sony Xperia L, the SGS4 mini is on the horizon, the Galaxy Active and so many more. Most Android devices are being released with Jelly Bean out of the box so it stands to reason that Gingerbread will fall behind in the stats soon enough.
What Android OS are you running? Please let us know what device you are using.