Samsung Galaxy S4 and Note 2 ZENS technology benefit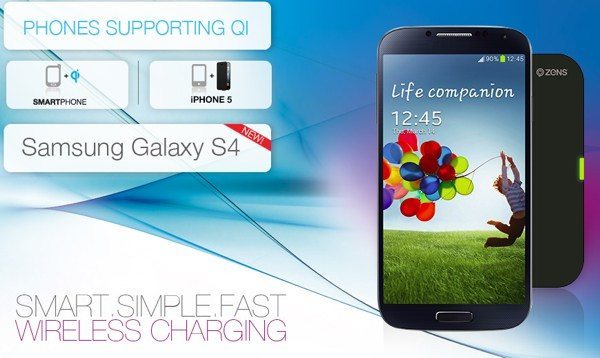 The Samsung Galaxy S4 has recently released in a fanfare of publicity while the phablet-style Galaxy Note 2 is a favorite among those who prefer a smartphone with a larger display. Today we have details for you of a ZENS technology benefit for both of these devices, as the company has launched new wireless charging accessories for these phones.
ZENS is a reputable wireless charging product maker and claims that its own technology in this area is an improvement to what Samsung offers. The company supports the Qistandard and is one of the first companies in Europe to produce a series of products based on this. Samsung has produced its own wireless charging docking station, but it is rather costly so some readers may be interested in the ZENS alternative and also flip cases.
For the Galaxy S4 the Zens Wireless Charging Cover will come as part of a bundle along with the ZENS Wireless Charger for €69.99 /$91.69. You can also purchase the cover alone, in black or white colour options for €29.99 /$39.29.
Meanwhile the flip covers are for the Galaxy S4 and Galaxy Note 2. The ZENS Flip Case with Wireless Charging for these devices is priced at €39.99 /$52.39 for the Galaxy Note 2 or €44.99 /$58.94 for the Galaxy S4, and this combines wireless charging with protection for your phone. This is available in black or white options for the Galaxy S4 or in black for the Note 2.
These accessories are all available from this month and you can find out more about them and the technology behind them or order the products at ZENS here. We'd really like to hear what you think about these wireless charging accessories from ZENS so do send us your comments. If you order one of these products, why not let us know if you recommend it, or not.