Meetings for iPhone, perfect for WWDC session notes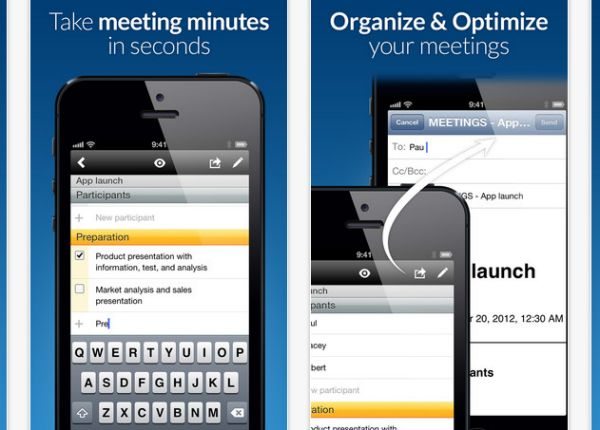 WWDC 2013 kicks of on Monday and a great app that is perfect for WWDC session notes is 'Meetings', the applications allows the user to fill in sections and the app will then helps you think about and then do the right thing. It also allows the planning of preparation activities as well as taking notes of the decisions and discussions and even defines an agenda as well as defines the next steps.
WWDC starts next week on June 10th, and there will be a lot of people to meet and keep track of. Meetings for iPhone is the perfect app to do that, and best of all, it will be on sale at just $1.99 from 6/6 to 6/10 (regular price $4.99). Meetings for Mac was also named as a Mac App Store Editors' Choice!
Meetings is the Mac and iPhone app that let's you organize and keep track of your meetings. Simply fill in the sections and Meetings helps you think about, and do, the right things like invite the right people, plan preparation activities, define an agenda, take notes of the discussions and decisions, and, most importantly, define the next steps.
The interface is complete and flexible: a user can show only the sections they need, on a meeting-per-meeting basis to tailor the experience of using Meetings. Different users need different sets of sections, so for example, a freelancer annotating a call with a client with Meetings can hide the Agenda section and show the Decisions and Tasks sections.
It can also be very useful to take notes during the WWDC sessions, as the users can show only Discussions and Tasks they want to do after the sessions.
One key feature of Meetings is the free Meetings Cloud sync. It does not require any setting from the user it just works. Any changes made on the Mac are automatically pushed to the iPhone and vice versa.
Meetings Cloud sync is also very helpful when a user buys a new Mac, a new iPhone, or in cases the user has multiple devices. Simply by signing in, all meetings are synced from Meetings Cloud and the user can start working on the new device immediately.