Galaxy S4 vs. iPhone 5 in 21-minute dogfight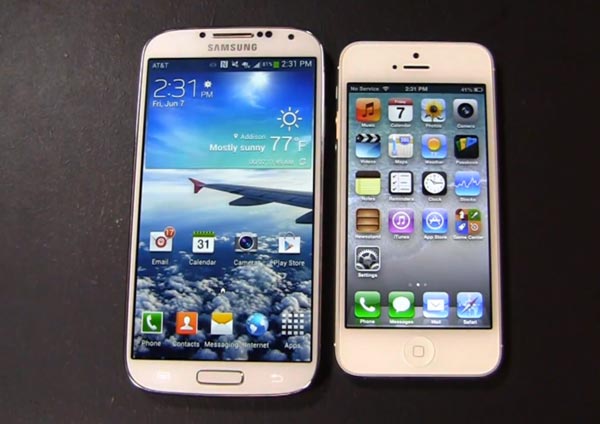 We have seen several comparisons looking at the Samsung Galaxy S4 vs. iPhone 5, but today we have our first dogfight video by the popular Phone Dog website that specializes in these hands-on reviews. It is one of the best reviews we have seen to date, which looks at just about everything between these popular smartphones running different software.
Samsung Galaxy S4 vs. iPhone 5 in 21-minute dogfight — we have embedded the two videos below this article that deliver a comparison with more than 20 minutes of insight. You see how the Galaxy S4 and iPhone 5 compare up close, from the specs to the differences in operating systems.
It is worth noting that the Samsung Galaxy S4 has only just past its release date, while the Apple iPhone 5 is coming up to a year old, so the technology would be slightly outdated on Apple's offering. Some of our readers might point out that Apple is behind with a lot of technology anyway, but then this only adds to what some people might call an unfair comparison.
The iPhone 5S vs. Galaxy S4 might be a better match-up, but you'll have to wait another 3 months to see this comparison officially. If Apple keeps the screen size unchanged on the iPhone 5S, then some people might also think the screen sizes aim for different people as well. This is without bringing up the big differences in Android vs. iOS.
Take a look at the two videos below, and then let us know your thoughts on Samsung Galaxy S4 vs. iPhone 5? Did these videos change your mind?