New iOS 7 Safari tabs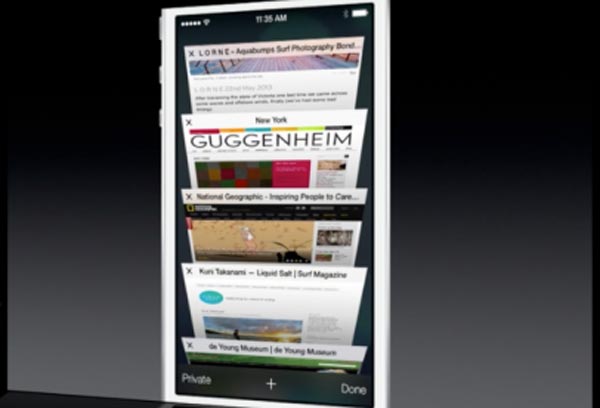 We knew a lot of new features would be showcased during the iOS 7 preview at WWDC, but not all of these new iOS 7 features would deliver something truly useful. One feature that we truly welcome is the new iOS 7 Safari tabs and improved browser performance.
The new Safari browser in iOS 7 will make finding information much faster, and you'll find a unified search and address bar. At the top of the mobile browser in iOS 7 you will see three tabs, which include the Reading List, Shared Links and Bookmarks.
Safari on the 4-inch iPhone 5 will look even better thanks to the new UI that takes up the entire screen the moment it opens, but it is still the Safari tabs in iOS 7 that will make browsing so much faster and simplified. You will see a carousel of pages that can easily be browsed by swiping, and allows for a lot more tabs than you previously saw with the old style navigation (just 8 before).
Having no limit with the new iOS 7 Safari tabs makes everything a lot more productive, and you can also rearrange the order by simply holding down one of the tabs just like you do with the icons on the home screen. After you done this just drag and rearrange. If you drag all the way down then you'll find the tabs open on your Mac, if you're using iCloud.