WWDC 2013 keynote, live video coverage on Apple TV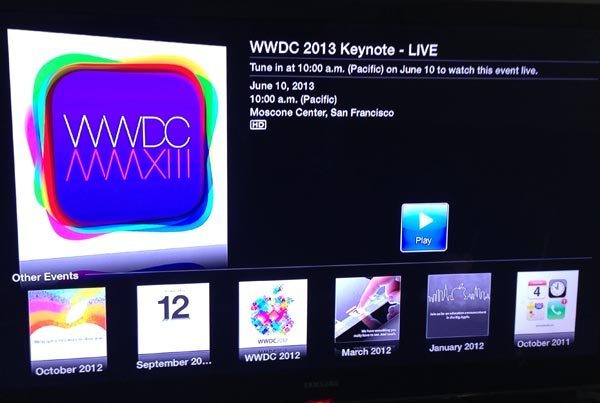 Within the last few moments we just finished watching a movie on Apple TV and noticed a new icon featuring the WWDC 2013 keynote, which will deliver live video coverage via Apple TV. This follows something similar for the iPhone 5 event at the end of last year and we had hoped something would happen for this year's press conference, and now we can confirm you will be able to watch the WWDC 2013 keynote with a live video stream on Apple TV.
You can see a couple of photos on this page that showcase the new icon, although we are not aware of any other official video streaming services from Apple at this time. Mac and iOS devices did get this ability for the iPhone 5 event, so you should expect something via these devices as well. Thanks to a 180-inch projector hooked up to an Apple TV, we'll be watching the WWDC 2013 keynote address live thanks to the video coverage on Apple's set-top box.
Seeing the event on a big screen like this is the next best thing to being there, although we'd love to hear from our readers if they have Apple TV, and if you'll be watching the live video stream at 10am PT?

We tried to click play and got the message "WWDC 2013 Keynote: Tune in at 10:00am (Pacific) on June 10 to watch this event live". If you're not able to watch any of the interactive blogs or the the WWDC live video stream, then keep connected to Phones Review's social channels and we'll update you with the news as it breaks.