Samsung Galaxy Note 2 with special price for India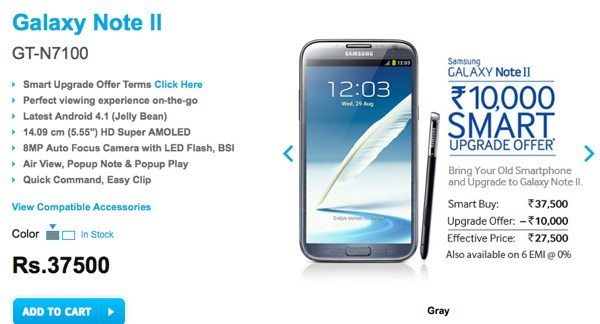 Today we have some good news for our readers in India, as we have details of a special price available for the Samsung Galaxy Note 2. This is a very desirable Android smartphone, and if you've been thinking of buying the Galaxy Note 2 this exchange deal makes it more affordable. A Smart Upgrade Offer for this phone has been introduced by Samsung and we have the information ahead.
The idea is to exchange the smartphone you are using at the moment and upgrade to the Samsung Galaxy Note 2 (GT-N7100), and if you have one of the smartphones eligible for the deal you'll get cash back translating to Rs. 10,000 off the price. This means that instead of paying Rs. 37,500 for the Galaxy Note 2 the price will be brought down to Rs. 27,500. The offer began on June 9th and is valid until June 30th, 2013.
Some of the key specs of the Samsung Galaxy Note 2 (Note II) include a 1.6GHZ quad-core processor, 5.5-inch HD Super AMOLED display, 2GB of RAM and 16 or 32GB of internal storage (expandable via microSD). The phone also has an 8-megapixel rear camera, 1.9-megapixel front-facing camera, a 3100 mAh battery, and launched on the Android 4.1 Jelly Bean operating system.
If you want to take advantage of this special Samsung offer for the Galaxy Note 2 you need to exchange a smartphone that is in good working condition with a working keypad and intact LCD. It also needs to be able to show a network signal and detect a SIM card, and the batter and charger are also necessary.
The Smart Upgrade Offer requires you to fill in your current smartphone details on the Samsung eStore and with the purchase of a Samsung Galaxy Note 2 from the eStore you'll instantly get Rs. 5,000 cash back. Once the phone that you wish to exchange has been checked by Samsung for eligibility and condition then you'll also receive another Rs. 5,000 cashback to your account.
Full details of exactly how this works can be found at the source link below, along with a full list of phones eliglble for the exchange offer. The list includes specific phones from various manufacturers such as Samsung, Nokia, BlackBerry, Sony, HTC, Apple, Karbonn, and Micromax. This Samsung offer certainly makes the price of the Samsung Galaxy Note 2 more appealing and could tempt a lot of potential customers. The Galaxy Note 3 is due later this year and we expect a reveal at IFA in Berlin in September, although there's always a chance it could be introduced earlier.
We'd like to hear your thoughts for this special upgrade offer for the Samsung Galaxy Note 2? Do you intend taking advantage of this cash back deal? Let us know with your comments.
Source: NDTV Gadgets