Galaxy S4 vs. iPhone 5 with iOS 7 for gaming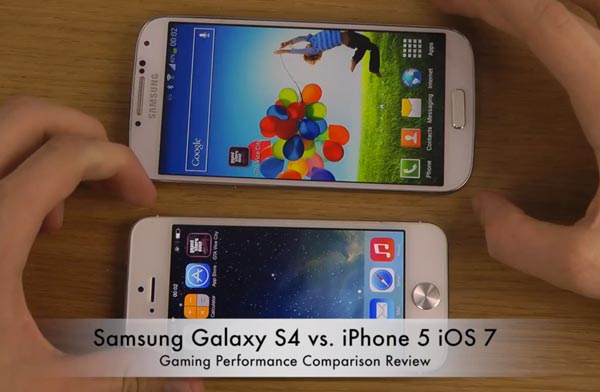 Today, we have an in-depth Samsung Galaxy S4 vs. iPhone 5 hands-on review that focuses on gaming performance. You might have seen a few videos like this previously, but this video review features the iOS 7 beta on iPhone 5 rather than iOS 6.
There are a number of games within this almost 28-minute video, although they start with some Grand Theft Auto: Vice City gameplay. You can see how the bigger Samsung Galaxy S4 screen delivers a nice visual experience, although this review does start by picking on heating issues and how it compares to Galaxy Note 2 and S3.
It is strange to understand why the reviewer talks about how much better the iPhone 5 gaming performance is, before talking about the screen size difference. They explain that there's no frame drops on the iPhone 5 with iOS 7 and how much better it is, although you can see for yourself in the video below.
We should point out that as the review goes on, the reviewer notices how the smaller iPhone 5 display can be a hindrance for many of the games and the Galaxy S4 wins out in many cases when the difference in FPS is so small.
What smartphone do you think performs better for gaming, Samsung Galaxy S4 or Apple iPhone 5? You will also see Need for Speed: Most Wanted, Modern Combat and a number of other games. While we understand how solid iOS is, you can't help but notice the difference in screen size when it comes to gaming on these two smartphones.
It is worth noting the reviewer keeps talking about better FPS on the iPhone 5 vs. Samsung's Galaxy S4, although on the second game they explain the difference is so small that most gamers might prefer the bigger display on Galaxy S4. When reviewing Modern Combat they again touch on the need for a bigger display on first person shooters.
Did you find this a balanced review of Samsung Galaxy S4 and iPhone 5 for gaming?