Samsung Galaxy Tab 2 free with S4 Mini on EE 4G, T-Mobile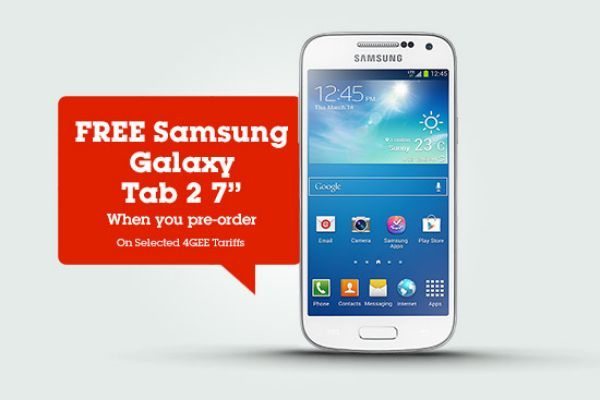 If you are like the sound of the Samsung Galaxy S4 mini but still have slight reservations, how about a free Samsung Galaxy Tab 2 to sweeten the deal? Sounds great right, well we have found that both Carphone Warehouse and Phones 4U are offering the freebie with the stunning smartphone.
You can get your hands on both the Samsung Galaxy S4 mini and the Samsung Galaxy Tab 2 at the same time, all you need to do is pre-order now.
Carphone Warehouse is offering the Samsung Galaxy S4 mini for from £26 per month, but they are also offering a free Samsung Galaxy Tab 2 if you opt for the £47 per month on T-mobile, which will give you 2000 minutes, Anytime Any network, Unlimited MB data and Unlimited texts — when you visit the Carphone Warehouse page, on the right of the smartphone photo you will see contracts and under that is a link saying "Free gifts available" just click there and off you go.
Phones 4U are also offering the smartphone with a free Galaxy Tab 2, the handset will be free on contract from only £27 a month. If you choose the LTE 4G contract with EE for £36 a month you will get the Tab 2 with it if you pre-order now. For more details and please read all the fine print, click the relevant link — Samsung Galaxy S4 mini in white / black
The Samsung Galaxy S4 mini is no slouch, it is a decent smartphone featuring a 4.3-inch 960×540 Super AMOLED display, 1.5GB of RAM, 1.7GHz dual-core Snapdragon 400 processor, 8-megapixel camera, Android 4.2.2 Jelly Bean and 8GB of internal storage.
The Samsung Galaxy S4 mini will be available in July, and when it is you can choose the free Tab 2 to go with it, at a price of course.
Samsung seems to be playing the strategy game again, first the Jay Z album giveaway and now a free Galaxy Tab 2, all good for the consumer at the end of the day. In a way it makes sense to give away free Galaxy Tab 2's considering the Galaxy Tab 3 was recently announced.
Will you be getting the Samsung Galaxy S4 mini?