Galaxy S4 vs. iPhone 5 on iOS 7 beta 2 with benchmarks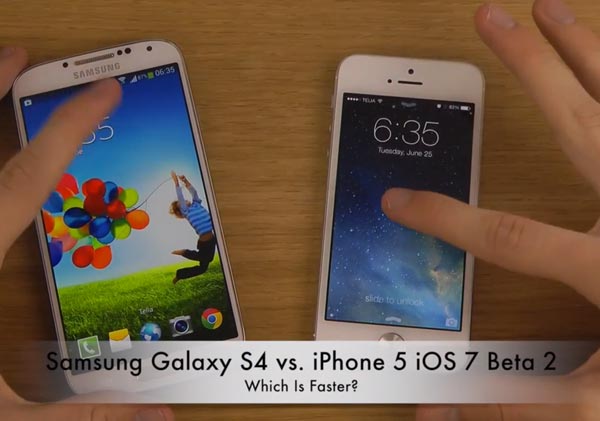 Now that we have seen iOS 7 beta 2 launch within the last couple of days it is time to see a video comparing the Samsung Galaxy S4 vs. iPhone 5 with iOS 7 beta 2. This follows on from a previous article we published looking at the first beta and these two smartphones.
The Galaxy S4 is currently the top smartphone being offered by Samsung and while it's newer, the iOS 7 update brings a lot of new features to an aging Apple phone, so this software will make some users feel like there's no need to replace the iPhone 5 or 4S anytime soon.
In our first article we looked at an 11-minute iOS 7 beta 1 hands-on video, but today we are featuring 3 videos looking at the speed difference between Samsung's Galaxy S4 and an iPhone 5 running the latest iOS 7 beta 2 update. You will also see a video running benchmarks for speed performance and a full review running for 17-minutes.
These handsets are extremely different in terms of mobile software and screen size, but they're also the best Samsung and Apple currently offer for most people.
How do you think the iPhone 5 performs against Samsung Galaxy S4? Take a look at the videos below to see what's changed in iOS 7 beta 2 and how these tests compare the Galaxy S4 vs. iPhone 5.
You can see the original comparison for beta 1 in this article and also the release notes for beta 2 we published via an article yesterday, which includes support for the full-size and mini iPad as well now.