Samsung Galaxy S4 vs. iPhone 5 with iOS 7 beta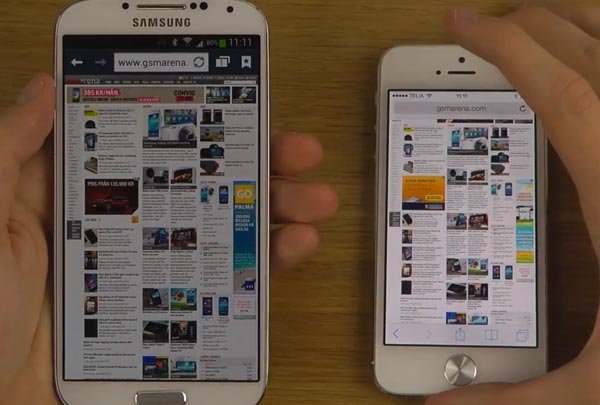 Now that iOS 7 beta 1 has been released for a few days it was only a matter of time before someone published a video comparing the Samsung Galaxy S4 vs. iPhone 5 with iOS 7 beta.
The Galaxy S4 is Samsung's flagship smartphone and a lot newer than Apple's offering, but iOS 7 breathes new life into the aging handset, so this will entice some people to just update the OS without splashing out on any new hardware.
In this 11 minute hands-on review found below we will see if much has changed now the iPhone 5 has new software, although it is still good to remember iOS 7 is in very early beta. The comparison video focuses on browser speed for both smartphones.
The video once again highlights the big difference in screen size and this alone could separate both smartphones for some buyers, but add to that the fact one runs Android and the other iOS, then you have two very different phones.
How do you think the Samsung Galaxy S4 stacks up to iPhone 5 with iOS 7? Take a look at the video below and let us know if iOS 7 changes anything for you when it comes to iPhone 5.
You can also see a painful Galaxy S4 vs. iPhone 5 video in this earlier article that puts both smartphones through some extreme tests.