Samsung Galaxy S4 faster than HTC One, iPhone 5 in UK
Grab seven smartphones and test their speed capabilities in the UK and results come in that puts the Samsung Galaxy S4 ahead of the iPhone 5 and HTC One, now we will explain how.
Many high-end smartphones have been released with top processors to provide faster speeds, but in some case larger processors does not mean super performance according to Which? They decided to get their hands on seven smartphones to test to see what one would be fastest.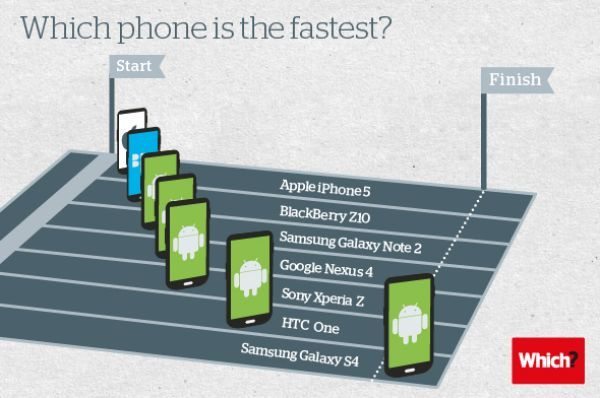 This year the Apple iPhone 5 was the best selling smartphone on the market back in February, but the Samsung Galaxy S4 came out on top for being faster.
The Galaxy S4 comes with a 1.9GHz quad-core processor and the iPhone 5 has a 1.2GHz dual-core processor, the Geekbench 2 test was performed on each device that covers both memory and performance. The Samsung Galaxy S4 score came in at number 1 with 3188 and the iPhone 5 16GB was at number 7 with only 1664.
In at number 2 on the list was the HTC One with a score of 2798, Sony Xperia Z 2173, the Nexus 4 scored 2134, Samsung Galaxy Note 2 1950, and in at number 6 beating the iPhone 5 also was the BlackBerry Z10 scoring 1698.
The higher the Geekbench 2 score the better the phone will perform when playing intensive games, multi-tasking on many apps and photo-editing etc. You might want to read our other article with videos covering benchmarks.
Do you buy smartphones based on speeds and benchmark tests?