Umeox X5 vs Huawei Ascend P6 for slim smartphone title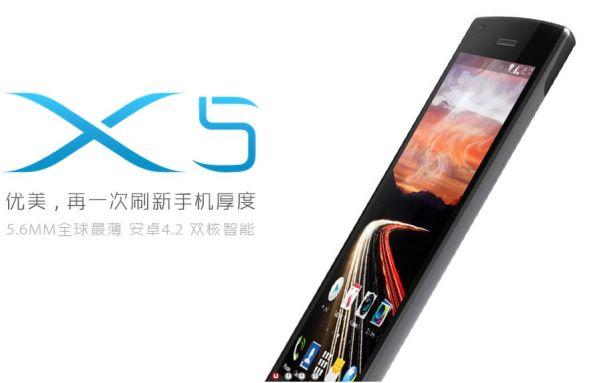 While we have seen smartphones getting larger displays powered by more powerful processors in the last couple of years they have also become a lot thinner and lighter, and today we are looking at the Umeox X5 vs Huawei Ascend P6 for the slim smartphone title.
While Chinese manufacturer Huawei recently launched the Ascend P6 and labelled the device as the slimmest smartphone at only 6.18mm thick, but now there is a new handset that has been announced that comes in even thinner and it is another Chinese handset called the Umeox X5.
The X5 has a 5.3-inch display of unknown pixel resolution that compares to the Ascend P6 that has a 4.7-inch HD resolution display. The P6 has a quad core 1.5GHz processor with 2GB of RAM under the hood that compares to the X5 that has a dual core unit of unknown clock speed or RAM. Both handsets will be running the Android 4.2.2 Jelly Bean operating system though.
On the X5 there is an 8-megapixel rear facing shooter along with a 3-megapixel front facer, which compares to the Ascend P6 that uses the same sized sensor on the back with a 5-megapixel camera on the front.
The X5 though only measures 5.6mm thick compared to the 6.18mm of the Ascend P6, and yesterday Sony announced the Xperia Z Ultra that is also pretty thin at 6.5mm. It is believed that the Umeox X5 will be arriving in Europe during the summer with France getting first dibs on the handset.
Do you think that smartphones are getting too thin?
Source: GSM Insider.