iOS 6 vs iOS 7 icons in popularity choice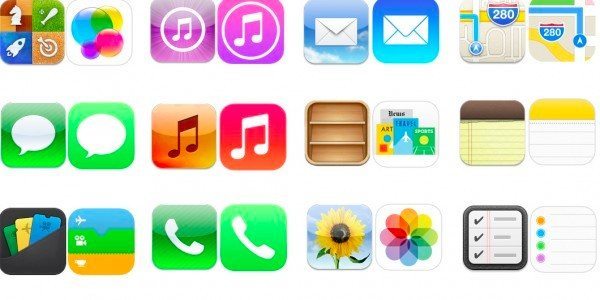 iOS 7 is at beta 2 stage for developers, and even though it has not released to the public yet we would like to ask what developers think about the new icons and the way they look. Of course some of the public can answer this as well, as they might have installed iOS 7 unofficially, or could have had a good look at some of the many reports on the upcoming operating system. For iOS 6 vs. iOS 7 icons in a popularity choice, which do you prefer?
Before the official introduction of iOS 7 at Apple's WWDC recently, there had been a lot of speculation about the new-look OS. It was widely rumored that the new iOS under the influence of Apple guru Jony Ive, would be moving away from a skeuomorphic look to a far cleaner and and flatter design. When iOS 7 was finally unveiled it soon became clear that the leaks had been correct, and a more industrial and uncluttered look was evident.
We've written many posts now about iOS 7, and opinion seems to be divided between those who are keen on the revamped interface and those who wish that Apple had left things well alone. We're really interested to find out whether developers favor the more streamlined appearance of iOS 7 icons or the fussier guise of iOS 6 icons. To be fair there may also be many developers or consumers who don't have a strong opinion either way and may not have even noticed a difference.
Of course we should remember that many people don't like change initially, and as Apple's iOS design has barely differed over the last six years, for some people this could be considered a major change. However, there is often an uproar when new interfaces are introduced (such as on Twitter or Facebook), but this usually dies down pretty quickly once people get used to something.
The image below shows some of iOS 6 icons followed by their iOS 7 equivalents, and we feel that the iOS 7 icons are more clearly defined. They lack any texturing or shading, giving that 'flatter' appearance, and although some may miss the older icons, we think the new-look icons are perfectly acceptable and quite admire the new design. Obviously everybody has different thoughts though and this is something that seems to be polarizing opinion, so we'd like to know what you think.
When comparing the rejuvenated iOS 7 icons with their older counterparts, which do you like the best? Do you wish Apple had stuck with the more detailed look of the older icons, or maybe you much prefer the fresh feel of the new icons? If you're a developer with a view on this, or a consumer, we'd like to hear your comments to get an idea of how the new look has been received.