HTC One vs. Galaxy S4 Google edition given review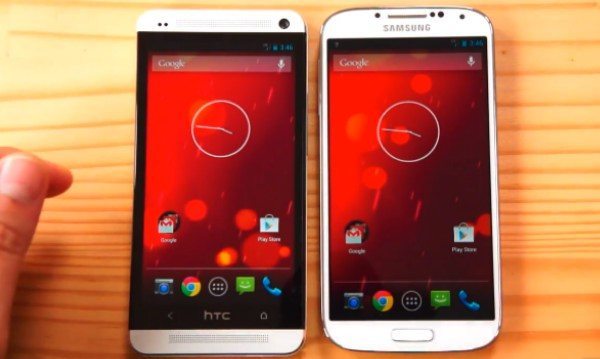 There were plenty of people who were thrilled to hear about the special Google edition of the Samsung Galaxy S4, and this was followed by news of the same for the HTC One. These are both massively popular devices and plenty of Android enthusiasts welcomed the addition of these smartphones running stock Google Android. Now the HTC One vs. Galaxy S4 Google Editions have been given a hands-on video review.
The HTC One Google Edition is available right now at the Google Play Store for $599. It's specs are the same as the 32GB AT&T version of the One, and it includes the same radios and LTE support. This device has a 1.7GHz Qualcomm Snapdragon quad-core processor, a 4.7-inch 1080p Super LCD 3 display and 2GB of RAM. There's also a 4-megapixel UltraPixel camera with optical image stabilization, and it has a non-removable 2300 mAh battery.
Turning to the Samsung Galaxy S4 Google Edition, and this device is also now available at Google Play. The Google Edition of the S4 is priced at $649 and is the same as the 16GB AT&T model, supporting the same bands, including LTE. This phone has a 1.9GHz Qualcomm Snapdragon 600 quad-core processor, a 5-inch Super AMOLED display with full HD display, and 2GB of RAM. It carries a 13-megapixel rear camera, and has a removable 2600 mAh battery and also comes with microSD expansion, which the HTC One lacks.
The team over at Engadget managed to have a hands-on experience with both of these handsets, and you can see a video below of their time with the HTC One and Samsung Galaxy S4 Google Editions. The 10-minute video that we have embedded for you below this story shows both phones and goes into some of the differences of the stock Android versions, how the menus handle, as well as the cameras and much more.
Towards the end of the video there's also a quick comparison of the HTC One Google Edition and the standard HTC One that may interest you. Following this, viewers can also see the Samsung Galaxy S4 Google Edition next to the standard Galaxy S4. The video gives plenty of insight into the benefits of the Google Editions of the HTC One and Samsung Galaxy S4, and we'd really like to hear your thoughts.
Were you happy to hear about the Google Editions of this phones becoming available? What for you is the main advantage of being able to run stock Android on a phone? Will you be heading to Google Play to purchase one of these phones, if you haven't already?