Nokia Lumia 520 vs. 620 in budget showdown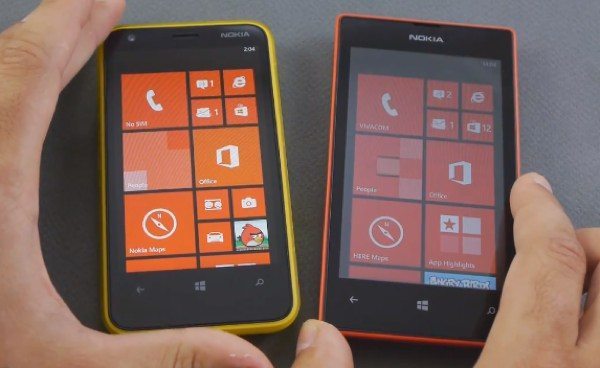 If you are about to buy an affordable smartphone then you may want to consider the Nokia Lumia 520 or Nokia Lumia 620. These handsets both run the Windows Phone operating system and both have something to different to offer. To give you an idea we want to look at the Nokia Lumia 520 vs. 620 in a budget showdown, and we have included a video of this.
There are some amazing smartphones around at the moment but not everybody wants or needs a phone with all-singing, all-dancing specs. The Lumia 520 and 620 are very good examples of lower-priced handsets that still give users a fine experience and we'll start by giving you a quick rundown of the key specs of each.
To begin with we have the Nokia Lumia 520 and this is powered by a 1GHz Qualcomm MSM8227 dual-core processor, has a 4-inch IPS LCD display with resolution of 800 x 480 and 233 ppi, 512MB of RAM, and 8GB of internal storage, expandable via microSD. It also totes a 5-megapixel rear camera with autofocus and 720p video capture (no secondary camera), 1430 mAh battery, and runs the Windows Phone 8 operating system. Dimensions are 119.9mm x 64mm x 9.9mm and it weighs 124g.
Moving on to the Nokia Lumia 620, which has a 1GHz Qualcomm Snapdragon S4 dual-core processor, a 3.8-inch TFT display with resolution of 800 X 480 and 246 ppi, 512MB of RAM, and 8GB of internal storage, expandable via microSD. The 620 also carries a 5-megapixel rear camera with autofocus, LED flash and 720p video recording, as well as a VGA front-facing camera. It has a 1300 mAh battery and runs Windows Phone 8. Dimensions are 115.4mm x 61.1mm x 11mm and it weighs in at 127g.
The video that you can see below this story is an 8-minute comparison of the Lumia 520 and 620. It starts by looking at the design differences and the main difference you will notice here is that the 620 has a much more rounded look than the more angular 520. It then goes on to contrast the cameras, displays (with the 620 easily winning on this aspect), apps, browsing, performance, call quality and more.
We won't spoil the conclusion for you, but pricing does come into it as the Lumia 620 is more expensive than the 520. Prices will vary with retailers and region, but as a rough guide at Carphone Warehouse UK the Lumia 520 has a SIM-free price of £129.95 while the Lumia 620 is SIM-free at £189.95. Please note that in the image below the Lumia 620 is on the left with the Lumia 520 on the right.
Why not check out the video below this story and give us your thoughts on these two smartphones. Would you prefer to pay less for the Nokia Lumia 520, or stretch to the Nokia Lumia 620 with a far better display? Let us have your comments.