Samsung Galaxy S4 Zoom UK price and release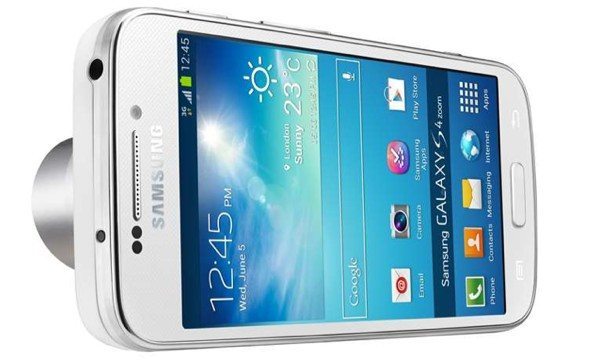 We've been bringing readers news on the Samsung Galaxy S4 Zoom smartphone, which is a take on the Galaxy S4 Mini rather than the standard Galaxy S4. However, where this varies from the S4 Mini is that the S4 Zoom is a blend of smartphone and digital camera, offering something a little bit different. Today we have details that many of you might have been waiting for, and they are the Samsung Galaxy S4 Zoom UK price and release details from Clove.
The Galaxy S4 Zoom was made official a few weeks ago, but until now we had only seen a leaked price. However, this information is now available for those in the UK, as online retailer Clove has now made pre-orders for the phone available with a SIM-free price of £442.80 inc. VAT. Clove has also listed availability as the week beginning July 8, although we feel we should point out that we have seen these early release dates get changed from time to time.
The Galaxy S4 Zoom is focused (excuse the pun) very much on the camera element of the device and features a Zoom Ring, which adds further options to those already on the screen. Also if you are making a call you only need to twist the Zoom Ring and an MMS picture can be sent to the person at the other end. The Zoom also has a 16-megapixel rear camera with OIS (optical image stabilization), optical 10X zoom and Xenon flash and it has a 24mm wide angle lens. As well as this the S4 Zoom offers full HD video capture.
Other specs of the phone include a 1.5GHz dual-core processor, 4.3-inch Super AMOLED display with 960 x 540 resolution, 1GB of RAM, and 8GB of internal storage (expandable via microSD). It runs the Android 4.2.2 Jelly Bean operating system and has a 2130 mAh battery. However one thing to be aware of is that the camera capabilities of the Galaxy S4 Zoom add a lot of heft to the device, as it's 15.4mm thick rising to 25mm.
Have you been waiting for price and release news on the Samsung Galaxy S4 Zoom from Clove? Will you be buying the S4 Zoom SIM-free? Let us know with your comments.
Source: Clove